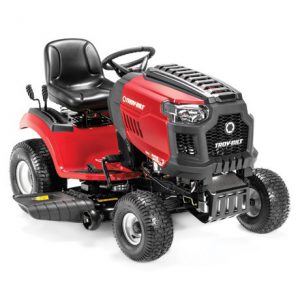 Riding lawn mowers are ideal for homeowners who own large lawns that cover several acres. These riding lawn mowers are available in different cutting widths that range from 30" to 60" or even more. Out of these, 42 Inch riding lawn mowers are a great option for most homeowners. Their 42" cutting width is adequate for heavy-duty operations but requires less storage space than mowers with larger cutting decks. These mowers are manufactured by different brands and come with different features. Here are a few popular 42 Inch riding lawn mowers available from different companies.
Husqvarna YTH18542 42-Inch Riding Lawn Mower
The Husqvarna YTH 18542 is a great choice when it comes to 42 Inch riding lawn mowers. It comes with a Briggs & Stratton Intek Series single-cylinder engine with a power output of 18.5hp. Its 42" stamped cutting deck is made of steel and will cut the toughest grass easily. It has two cutting blades that yield a superior quality of cut. Buyers can purchase bagging and mulching kits optionally. The mower is easy to use thanks to its pedal-operated hydrostatic transmission and ergonomic steering wheel. It has 15" front and 20" rear tires making it suitable for different types of terrains. Standard features on the mower include a deck washout port for easy cleaning, a comfortable 13" mid-back seat, and a cupholder.
Troy-Bilt Super Bronco 42
If you are looking for an affordable and versatile 42 Inch riding lawn mower, then the Troy-Bilt Super Bronco 42 is a great option for you. It has a powerful Troy-Bilt OHV engine under its hood with a displacement capacity of 547cc. The 42" cutting deck of the mower is made from 13 gauge steel and has side discharge capability. You can extend its functionality by purchasing mulching and bagger kits available optionally. Its 12-position height adjustment system gives you complete control over the appearance of your lawn. The foot-controlled hydrostatic transmission and the 16" tight turning radius of the mower make it easy to steer around obstacles and on narrow paths. Standard features on the mower include headlights, a high-back seat and an electric start. Troy-Bilt Super Bronco 42 comes with a 2-year limited warranty.
Poulan Pro PP155H42 Riding Lawn Mower 960420182
The Poulan Pro PP155H42 is another excellent 42 Inch riding lawn mower. The mower derives power from a Briggs & Stratton Powerbuilt single-cylinder OHV engine with 500cc displacement capacity and 15.5hp power output. Its 42" reinforced stamped cutting deck is constructed out of 13-gauge steel and is designed for heavy-duty operation. You can set the cutting height from 1.5" to 4" by choosing one of the six adjustment positions. The deck support mulch, bagging and side discharge functionalities. It has an automatic hydrostatic transmission that provides sufficient power for mowing hilly and rugged terrains. The mower has a 6" turning which makes it easy to maneuver around obstacles and in tight spaces. Standard features include an 11" mid-back seat and headlights. Poulan Pro provides a 2-year consumer warranty on the PP155H42 riding lawn mower.
John Deere E120 Lawn Tractor
Need a high quality 42 Inch riding lawn mower? Then the John Deere E120 lawn tractor is for you. It has a stamped 13-gauge steel deck with the Edge Cutting system that can take on the toughest mowing jobs. You can set the cutting height from 1" to 4" by choosing one of the thirteen available positions. The deck supports side discharge function as standard while a mulching kit and bagger are available optionally. The mower comes with a 656cc V-Twin OHV engine capable of outputting 20hp of power. It features the Easy Change system that makes changing the engine oil simple and fast. A small turning radius of 18" improves it maneuverability in tight spaces. An electric start, headlights, 15" high-back seat, and an hour meter with service reminders are all standard. John Deere provides a 2-year/120hours warranty on the E120 lawn tractor.