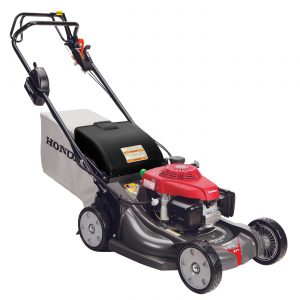 Owning a lawn mower is a prerequisite to having well-manicured gardens and lawns. There are various lawn mowers available from different manufacturers. They come in different sizes and have varying features. Choosing the right lawn mower can be quite confusing for the buyers. Here is a list of the best lawn mowers available in different segments that can assist you in your buying decision.
Honda HRX217HZA – Best Lawn Mower – Premium
The HRX 217HZA is a top-end model from Honda. It comes with every imaginable feature making it one of the best lawn mowers in the market. The Honda GCV190 engine powers this self-propelled lawn mower. Its cruise control feature ensures that you can mow down large lawns without fatigue. The 21" deck is made from NeXite and comes with a lifetime warranty. It has Honda's MicroCut twin blades with four cutting surfaces which will mow down the thickest grass easily. The lawn mower supports mulching, bagging, rear discharge, and leaf shredding functions. Users can choose from seven cutting positions ranging from 0.75" to 4". Honda HRX217HZA has an MSRP of $899 and comes with a 5-year residential warranty. Honda's HRX217KVA is another lawn mower that has similar features but costs relatively less.
Craftsman 37744 – Best Lawn Mower – Mid Range
The Craftsman 37744 is a great mid-range lawn mower that makes lawn maintenance easy. The 163cc Briggs & Stratton engine generates 7.25 ft./lbs. of torque. It has a 21" cutting deck and offers six different cutting positions to the users. Its Just Check & Add technology eliminates the need to change engine oil. Features like self-propelled front wheel drive system, single trigger speed selector, deck wash system, and push-button start, make it the best lawn mower in the midrange. The mower has mulching, side discharge, and bag clipping functionality. Craftsman 37744 has 2-year warranty coverage.
Troy-Bilt TB200 – Best Lawn Mower Low Range
The Troy-Bilt TB200 is one of the best lawn mowers in low range. It is a self-propelled front wheel drive lawn mower that is powered by a 150cc Briggs &Stratton engine. The mower comes with a 21" steel deck based on TriAction cutting system that supports mulch, rear bag, and side discharge capabilities. There are six different cutting height settings ranging from 1.25" to 3.75". It has integrated deck wash and comes with 2-year warranty. The TB115 push type mower from Troy-Bilt is another great entry-level option for buyers.
Snapper XD 82V 1687884 – Best Lawn Mower – Electric
The Snapper XD 82V is the best lawn mower among battery-powered models. It comes with a 1200-watt brushless motor that drives its 21" steel cutting deck. An 82-volt Briggs & Stratton Li-ion battery powers the motor allowing the lawn mower to perform at par with its gas counterparts. The mower supports mulching, bagging, and side discharge operations. There are seven different cutting heights available to the user. It has a runtime of 45 minutes with its standard 2-Ah battery. Buyers can upgrade to 4Ah and 5Ah battery for increasing the runtime. The package includes a rapid charger. The Snapper XD comes with 5-year limited warranty and is available in push and self-propelled variants.