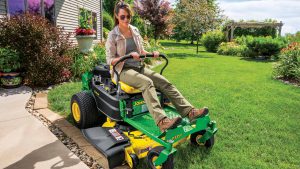 A zero turn mower is one of the best lawn mowers that can assist you in landscaping the yard of your dreams. These lawn mowers give your precise control and allow you to navigate around sharp turns, flower beds, fences, and poles. You have the maneuverability to cut the grass along the edges of circular pathways and around objects. Every lawn owner could do with a zero turn mower.
Best Zero Turn Mowers
There are different mowers available from multiple manufacturers in the market. Here are a few best zero turn mowers on the market today.
Husqvarna MZ61 (967 27 75-01)
The Husqvarna MZ61 is the best zero turn mower for people who want a premium grade offering. It is powered by a Briggs & Stratton engine that delivers 27hp output. The 61" fabricated steel cutting deck will cover the biggest lawns easily. It supports collect, mulch and side discharge cutting methods with twelve different height adjustments. The foot assisted deck lift system, electrical clutch blade engagement, and lever steering make it easy to operate. Its individual hydraulic wheel drive allows it to rotate around its axis with zero turn radius. The MZ61 has an MSRP of $4,799.95 and comes with 4-year/400 hours warranty.
Cub Cadet RZT L42
If you are looking for the best zero turn mower that is also affordable, consider the RZT L42 from Cub Cadet. It comes with a Kohler 7000 Series V-Twin engine with a 23hp power rating. The mower has a 42" stamped mowing deck that comes with twin blades designed for heavy-duty usage. Users can choose from eight height adjustment positions using a hand operated lever and set the cutting height between 1.5" and 4". Its adjustable twin-lever steering and zero turning radius allow it to be operated nonchalantly. Other standard features include electric start, deck washing system, and hydrostatic transmission. The RZT L42 is priced at $2,399 and covered by a 3-year warranty.
Toro TimeCutter SW4200
Buyers who prefer the conventional wheel steering over the lever one can consider Toro's TimeCutter SW4200. It is one of the best zero turn mowers with wheel steering. It is equipped with a Toro Commercial V-Twin 24.5hp engine. The 42" cutting deck has two blades and supports a cutting height of 1.5" to 4.5" via seven different positions. It has bagging and side discharge capabilities while a mulcher kit can be purchased separately. Its features include dual hydrostatic transmission, self-cleaning air filter housing, deck washout port and electric start. The TimeCutter SW4200 is priced at $3,299 and has 3-year warranty coverage.
John Deere Residential ZTrak Mower Z525E
John Deere's Residential ZTrak Z525E is one of the best zero turn mowers that packs premium features into midrange pricing. It has a 24-hp V-Twin engine rear side that has been engineered to last for years. Buyers can choose between 48" or 54" Accel Deep mower decks as per their requirements. Both decks have side discharge, mulching and bagging capabilities. The cutting height can be set from 1" to 4" in increments of 0.25". It comes with a twin lever steering that allows easy maneuverability, a wash port for cleaning the deck and an electric start. The Z525E starts at $3,899 and is covered by a 2-year/120-hour bumper to bumper warranty.
Troy-Bilt Mustang 50 XP Zero Turn Rider
The Mustang Pivot 50 XP is a great choice when it comes to best zero turn mowers in the midrange. Its 50" wide mowing deck with triple blades can significantly reduce the cutting time for large lawns spread over acres. A 25hp Kohler engine along with the twin hydro transmission propels the lawn mower. There are eight deck height adjustment positions that allow the homeowners to select the desired cutting height. It has an integrated deck wash while optional mulcher and bagger kits are available. The lever steering provides precise maneuverability while the high-back seat with dual suspension enhances comfort. The 50 XP carries a price tag of $2,799 and comes with a 3-year limited warranty.