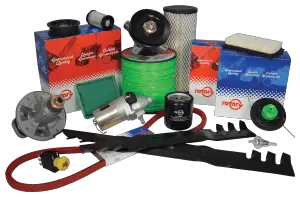 Lawnmowers have components and parts that experience wear and tear over time. These parts include blades, deck belts, and wheels among others. Worn out parts reduce the cutting quality and performance of the lawnmowers. These parts must be replaced with new ones to ensure that the lawnmower functions at optimum levels. Rotary lawn mower parts are a great choice for buyers looking for lawn mower parts from generic manufacturers. The company has been manufacturing parts for lawnmowers and outdoor equipment since 1957. Their lineup includes parts for lawnmowers of different brands. All their parts are manufactured to match the quality of OEM parts. Here are a few best-selling Rotary lawn mower parts.
Rotary 14040 Blade Control Cable
Control cables are one of the bestselling Rotary lawn mower parts. Control cables on mowers allow users to engage the mowing deck for propelling the blades. These cables are under constant tension and experience wear and tear. The cables may break after a few years and might have to be replaced. They may also rust which can shorten their lifespan. Rotary manufactures blade control cables for lawn mowers of different brands. Their 14040 control cable will replace the original control cable in various models of lawnmowers. The cable has a conduit length of 40-3/4″, a wire length of 54″, and supports 12″ wire travel. It is easy to install.
Rotary 9810 21″ Mulching Lawnmower Blade
Lawn mower blades are a frequently sold item on the list of Rotary lawn mower parts. The blades of a lawnmower experience friction when in use. They become blunt which lowers their cutting power yielding frayed grass tips that are unsightly and hamper the appearance of the lawn. These blades must be sharpened or replaced to restore their cutting prowess. Rotary manufactures lawnmower blades for different lawnmower models. Their 9810 blade will fit Husqvarna, Craftsman and Sears lawnmowers that have a 21" cutting width. The blade has been specially designed for excellent mulching capability.
Rotary 13248 PTO Switch
Another popularly selling item on the list of Rotary lawn mower parts is a PTO switch. A PTO or a Power Take-Off switch is used to engage or disengage the cutting deck of the riding mowers. The switch when pulled to the on position supplies power to the deck for propelling the blades. It can be pushed to the off position for disengaging the deck. PTO switches may malfunction, short out or break. Rotary 13248 PTO switch can replace original PTO switches on the riding lawnmowers from different manufacturers that include Husqvarna, Murray, and Snapper to name a few.
Rotary 15087 PK2 Flat Free Wheel Assemblies
Lawnmower wheels are another item on the list of Rotary lawn mower parts. Wheels experience wear and tear with usage. The treads of their tires may wear out causing the lawn mower to slip while being used. It will adversely impact the cutting quality, and the lawnmower will be harder to steer. Rotary manufactures wheels for walk behind and riding lawn mowers from different brands. Their 15087 PK2 flat free wheel assemblies are a great option for riding mowers that are used in tough terrains. These tires are sturdy and robust and free users from the hassles of patching flat tires. 
Rotary Replacement Spindle for 130794
Rotary replacement spindles are quite popularly sold items when it comes to Rotary lawn mower parts. A spindle is used on the mower deck and works in tandem with the pulleys for propelling the deck blades. Spindles can bend or break down which might cause the blade of the lawn mower to spin unevenly or stop spinning altogether. These spindles must be replaced. Rotary manufactures a wide range of spindles for lawnmowers of different brands. Their replacement spindle for 130794 items will fit lawnmowers from most companies including Craftsman, Poulan, and Husqvarna among others. The special design of the spindle makes it easy to install. It comes with a 1-year warranty.