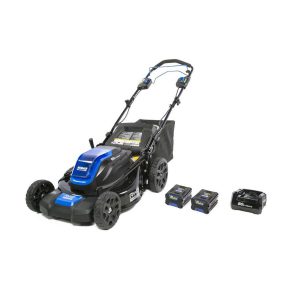 A lawn mower is a great addition to the garden shed especially for individuals who are passionate about their lawns. They minimize the effort and time required for lawn upkeep while ensuring a spick and span scenery. Most modern lawn mowers have an electric start option. They are equipped with a lawn mower battery that brings the engine to life at the push of a button. However, batteries have a limited life expectancy and have to be replaced every three to four years. Buying a lawn mower battery can be confusing especially for first-time buyers. Here are a few things to consider that can help you in choosing the right battery for your lawn mower.
Type of Lawn Mower Batteries
Lawn mowers can be classified into two types based on their power source – fuel based (gas) and electric. Fuel-based lawn mowers use gasoline or other fossil fuel for operation. They might have an electric start system. Electric lawn mowers may run off electricity or they may have an electric motor that runs off a lawn mower battery. The fuel based and electric lawn mowers require different types of batteries. Fuel-based lawn mowers need the battery to start the engine of the lawn mower. They use a regular battery that is generally rated at 12V. Electric lawn mowers require larger batteries that can start them as well as power them. They employ deep cycle batteries with higher voltage rating and larger capacity. Buyers must be aware of the type of their lawn mower before shopping for a lawn mower battery.
Voltage Rating
The voltage rating of a lawn mower battery is a primary factor that must be considered when replacing it. Standard-sized lawn mowers with electric start feature require a 12-volt battery while some compact lawn mowers might come with a 6-volt battery. Buyers can check the voltage rating of the original battery in their lawn mower. Replacing the original battery with one having lower voltage will result in poor performance. Installing a battery with a higher voltage rating may short the electrical system. Electrical lawn mowers that run off batteries mostly use 36 or 40-volt batteries. These are deep cycle batteries that are designed to supply power for a long duration. They can withstand repeated charging and discharging without a significant drop in performance.
Position of Terminals
Every battery has a positive and negative terminal that is used to connect it to the electrical system of the lawn mower. The position of the terminals may differ from one battery to another depending on its group type. U1 and U1R are the most common battery groups found in lawn mowers. The positive terminal in U1 batteries is near the left corner on the top side while in U1R batteries, it is near the right corner. The battery cables in the lawn mower are designed based on the position of original battery terminals and may not reach the terminals of a battery belonging to a different group. It is best to choose a lawn mower battery that belongs to the same group as the original one.
Cold Cranking Amps Rating
Owners who live in areas with low temperature or those that receive snowfall must consider the Cold Cranking Amps (CCA) rating of the battery. It indicates the starting power of a battery in cold temperatures. Starting an engine in cold conditions is harder and requires more effort. It is better to opt for batteries that have a higher starting power. The higher is the CCA rating of a battery the more is its starting power. It is wise to choose a replacement lawn mower battery that has an equal or higher CCA rating than the original battery.
It is best to consult the owner's manual for information while purchasing a replacement lawn mower battery. The information can also be found on the battery. There are many Original Equipment Manufacturers (OEMs) that provide replacement batteries for lawn mowers of different companies. Buyers may buy a replacement battery from one of these.