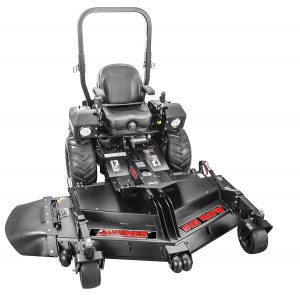 Homeowners or individuals who have multiple lawns spread over several acres can opt for commercial lawn mowers. These lawn mowers have heavy-duty engines and mowing decks that are designed to mow the thickest grass with ease while covering several acres. The materials used for construction are durable and more robust than their residential counterparts ensuring that the mowers will easily last for years to come. Commercial lawn mowers are more powerful and have better cutting quality as compared to consumer models. They are available both in walk-behind and riding variants.
 Snapper 7800849 Commercial Walk Mower
The Snapper 7800849 commercial walk mower is the ideal choice for homeowners who have lawns with thick grass and uneven terrains. It comes with a powerful 163cc Honda GXV160 engine and a Rear Wheel Drive (RWD) system. The mower has a 14-gauge steel mowing deck with a cutting width of 21". It allows mulching and side discharge functions with optional accessories. You can set the height of cut from 1.25" to 4". Its 10" rear wheels coupled with the RWD provide improved traction for navigating slippery and uneven terrains with slopes. The mower has a steel axle and a reinforced bracing that can withstand rugged environments. It comes with a 1-year commercial or a 3-year residential warranty.
Husqvarna M-ZT61 Commercial Mower 9671770-08
The M-ZT61 is Husqvarna's entry-level commercial lawn mower that excels both in productivity and durability. It has a Kawasaki FS Series V-Twin engine rear-side with a power output of 23hp. Its fabricated 61" 11-gauge steel deck has three blades and supports collect, mulch and side discharge operations. You can set the cutting height from 1.5" to 4.5". The lever steering, zero turning radius, and the commercial grade hydrostatic transmission make it easy to operate. This commercial lawn mower has a top speed of 10mph that allows you to mow almost five acres in an hour. Husqvarna provides a 4-year/750 hours warranty on its M-ZT61 model.
Spartan RZ Pro 48" Commercial Zero Turn Mower
The Spartan RZ Pro is a mid-range commercial lawn mower. It has a 26hp Kohler 7000 Series engine with 747cc displacement. The mower comes with a 48" deck and a foot-operated lift. You can set the cutting height from 2" to 5.5" using 15 positions in between. Adjustable steering levers and the GT Trac provide traction and maneuverability on all types of terrains. Standard features include hour meters for engine and mower deck, oil change meter, keyless entry, and a 12V outlet. Spartan provides 1-year/250 hours commercial and 2-year/250 hours residential warranty on the RZ Pro commercial lawn mower. The engine carries a 3-year residential/commercial warranty.
Swisher Z3166CPKA Big Mow
The Swisher Z3166CPKA Big Mow is one of the best commercial lawn mowers that money can buy. It comes with a commercial grade Kawasaki engine with 999cc displacement and 31hp power output. Its 66" fabricated mowing deck is one the widest available in the market. The deck has three G6 commercial blades that will cut through the thickest grass nonchalantly. Its front-mounted deck allows you to mow with absolute precision and reach areas with low height clearance. An electric switch enables you to set the cutting height from 1.25" to 5". Its Rapid Response Control system and zero turning radius make steering easy. Features like LED headlights, an hour meter, adjustable seat with suspension, heavy duty welded steel frame and eight-gallon fuel capacity add to its value.