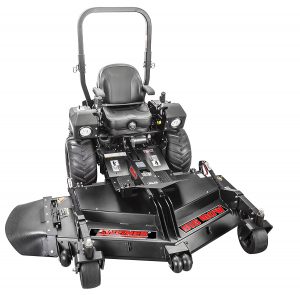 Establishments that have grass turfs spread over numerous acres use lawn mowers for long durations regularly. Businesses that provide lawn maintenance services also mow lawns for several hours on a daily basis. Regular riding lawn mowers are designed for occasional operation and will not be sufficient for such establishments and businesses. Commercial zero turn mowers are the ideal solution for these scenarios. They come with commercial-grade components that experience minimum wear and tear even under heavy workloads. These mowers have rugged frames, reinforced decks and heavy-duty transmissions that can withstand trying workloads. Their zero turning radius enhances their maneuverability and mowing precision. Here are three highly sought-after commercial zero turn mowers available in different price segments.
Husqvarna M-ZT61 Commercial Zero Turn Mower
The Husqvarna M-ZT61 is one of the bestselling commercial zero turn mowers. It comes with a powerful and reliable 23hp Kawasaki FS Series V-Twin engine designed for commercial operation. Its heavy-duty steel frame and rugged construction make the mower ideal for long duration mowing jobs on uneven terrains. The mower has a 61" heavy-duty fabricated deck constructed out of 11-gauge steel. It has collect, mulch and side discharge capabilities and can efficiently mow lawns spread over several acres. There are twelve height adjustment positions provided in the M-ZT61 commercial zero turn mower for setting the cutting height from 1.5" to 4". The commercial rated hydraulic system and transmission allow the mower to mow 4.9 acres in an hour. Comfort enhancing features like the well-cushioned high-back seat, cupholder and armrests minimize fatigue allowing the rider to operate the mower for several hours. Its ergonomic lever steering and zero turning radius provide exceptional maneuverability. Husqvarna M-ZT61 mower has a 4-year/750 hours warranty.
GXi Z-BEAST 62ZBBM18 62" 25 HP Zero Turn Commercial Mower
GXi's Z-Beast 62ZBBM18 is an excellent option for buyers searching for commercial zero turn mowers. It is a dependable mower built for heavy-duty operation. The mower has a commercial grade 25hp Briggs & Stratton V-Twin engine at the rear. Its 7-gauge fabricated steel commercial grade deck has a cutting width of 62" which will take care of large lawns while reducing mowing time. The deck has three steel blades and comes with side discharge and reverse mowing capabilities. There are eight different adjustment positions provided that allow users to select a cutting height from 1.5" to 5" using a single-lever system. This commercial zero turn mower has a variable speed drive with a maximum forward speed of 12mph and maximum reverse speed of 6mph. The 22" rear tires yield superior traction while the lever steering, hydrostatic transmission, and zero turning radius make it easy to operate the mower. Standard features include headlights that increase visibility during dark or low light conditions, hour meter with service reminder, electric start, six anti-scalp wheels, and a high back seat with eleven adjustable positions. GXi Z-Beast mower comes with a 2-year limited warranty.
Swisher Big Mow Z3166CPKA Commercial Zero Turn Mower
The Swisher Big Mow Z3166CPKA is one of the best commercial zero turn mowers that money can buy. It comes with a commercial grade Kawasaki engine with 999cc displacement and 31hp power output. Its 66" fabricated mowing deck is one the widest available in the market. The deck has three G6 commercial blades that will cut through the thickest grass nonchalantly. Its front-mounted deck allows you to mow with absolute precision and reach areas with low height clearance. An electric switch enables you to set the cutting height from 1.25" to 5". Its Rapid Response Control system and zero turning radius make steering easy. The mower has two four-gallon fuel tanks that enable it to cover multiple acres without refueling. Its twin Hydro-Gear 3400 transmissions and large chevron tread tires provide excellent control in rugged, wet or uneven terrains. Features like LED headlights, an hour meter, adjustable seat with suspension, heavy duty welded steel frame and eight-gallon fuel capacity add to its value.