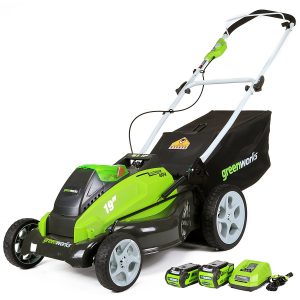 Homeowners across the country are replacing their gas mowers for cordless electric lawn mowers. These mowers come with electric motors instead of engines and derive power from rechargeable batteries. The motors propel the cutting blades and the drive systems of the mowers. Cordless electric lawn mowers do not produce any exhaust gases and are eco-friendly. They also do not require oil changes like gas mowers and are easier to maintain. Here are a few cordless electric lawn mowers for homeowners who are looking to replace their gas mowers for battery powered ones.
 Greenworks 25223 G-MAX 40V 19-Inch Cordless Electric Lawn Mower
The Greenworks 25223 is a great option for homeowners who are searching for a cordless electric lawn mower. It has a 19" steel cutting deck that will make quick work of mowing small to medium-sized residential lawns. Available cutting options include rear bagging, mulching, and side discharge. The mower derives power from two batteries, one with 4Ah and the other with 2Ah capacity. You can give your lawn the desired outlook by choosing one of the seven adjustment positions that support a height from 1.125" to 3". Its 10" rear wheels make it ideal for uneven terrains and slopes. Greenworks provides a full 4-year warranty on the mower and a 2-year warranty on the batteries.
EGO Power+ LM2000 Cordless Electric Lawn Mower
The Power+ LM2000 cordless electric lawn mower is one of the bestselling models of EGO. The mower has a 20" cutting deck that will mow small to medium-sized residential lawns quickly. It has mulching, rear bagging, and side discharge functionality. A 600W magnetic motor derives power from a 56V 5Ah ARC Lithium battery and has a runtime of up to fifty-five minutes. The motor generates excellent torque and delivers power at par with gas mowers. The LM2000 makes less noise as compared to gas mowers and has LED headlights that allow mowing after dusk. It can be folded and stored in an upright position.
Worx WG775 24V 14″ Cordless Electric Lawn Mower
Do you need a compact and easily maneuverable lawn mower for your small yard with tight spaces? The Worx WG775 cordless electric lawn mower will be the perfect choice for you. It has a compact 14" cutting deck that can mulch, rear discharge and bag as required. The deck allows you to set a cutting height from 2" to 3.5". A 24V battery provides power to the mower and enables it to cover 6,000 square feet of area on a single charge. The battery can be removed and charged separately from the mower. Worx WG775 comes with a 3-year warranty and 30-day money-back guarantee.
Black+Decker CM2040 40V Lithium Mower
The Black+Decker CM2040 is a highly popular cordless electric lawn mower. It has a variable speed motor with AutoSense technology that adjusts the power according to the thickness of the grass. The motor derives power from two 40V 2.5Ah Lithium-ion batteries and is ideal for yards up to 1/3 acres. It has a 20" cutting deck with EdgeMax technology that allows it to mow close to the edges. The deck supports bagging, mulching, and side discharge operations. Homeowners can choose a cutting height from 1.5" to 4" using a six-setting height adjuster. The mower comes with a 2-year limited warranty.
Ryobi RY40190 20" 40-Volt Cordless Self-Propelled Mower
If you are searching for a self-propelled cordless electric lawn mower, then take a look at Ryobi's RY40190 variant. It has a brushless motor with load-sensing technology that adjusts power automatically depending on the grass. A rear-wheel drive system makes mowing effortless. It has a 20" cutting deck that allows you to choose between mulching and bagging functions. The mower derives power from a 40V 5Ah Lithium-ion battery. You can set the cutting height from 1.5" to 4" by using the seven-position single-point height adjustment system. The 10" rear wheels enhance its maneuverability on uneven terrains. Ryobi RY40190 mower comes with a 5-year warranty.