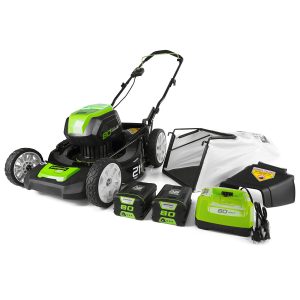 Gas lawn mowers assist you in maintaining your lawns in tiptop shape but they also produce greenhouse gases that cause pollution. Cordless lawn mowers are an alternative option for mowing your lawns in an environmentally friendly way. These lawn mowers have electric motors that run off rechargeable batteries. Their motors are designed to match the performance of conventional gas mowers. An added advantage of cordless lawn mowers is that they do not require routine maintenance or oil changes. Consider one of the following cordless lawn mowers if you want a great looking yard without polluting the environment.
EGO Power+ LM2000 20″ Lawn Mower 
The EGO Power+ is one of the bestselling cordless lawn mowers available in the market. The lawn mower comes with a 20" cutting deck that reduces mowing time. The deck supports mulching, bagging, and side discharge cutting options. It has a 600W magnetic motor that matches the performance of gas mowers. There are different battery options available for the buyers. A 4Ah battery will provide a runtime of 45 minutes while a 7.5Ah battery yields a runtime of up to 90 minutes. Its low noise levels and LED headlights allow you to mow before dawn or after dusk. It can be folded and stowed vertically reducing the required storage space.
Greenworks Pro 80V 21-Inch Cordless Brushless Lawn Mower
The Greenworks Pro 80V 21" cordless lawn mower is the first choice of many customers. It comes with an 80V 4Ah battery that allows up to 60 minutes of runtime on a single charge. The 21" steel deck will shorten the time required for mowing your lawn. It has the DigiPro brushless motor that maximizes efficiency and performance.  You can choose from seven cutting heights ranging from 1.375" to 3.75" using the adjustment lever. The deck comes with mulching, side discharge, and rear bagging capabilities. Greenworks Pro 80V 21" lawn mower comes with a 4-year warranty and a 2-year warranty on the battery.
Echo CLM-58V4AH Cordless Lawn Mower
The Echo CLM-58V4AH is a cordless lawn mower designed for heavy duty operation. It has a 21" composite deck propelled by a brushless motor. A 58V 4Ah Li-ion battery provides power to the motor with a runtime of up to 40 minutes. The mower comes with seven cutting height settings ranging from 0.75" to 4" that allow you to landscape your lawn as desired. Its quick release handle is adjustable and foldable. The mower supports both vertical and horizontal storage. Echo's CLM-58V4AH mower comes with a 5-year consumer warranty or a 2-year commercial warranty. The deck has lifetime warranty coverage.
Worx WG775 24V Cordless 14″ Lawn Mower
If you need a compact and affordable cordless lawn mower, then the Worx WG775 is the ideal choice for you. The mower comes with a 14" wide deck that supports bagging, mulching, and rear discharge operations. It derives power from a 24V battery that allows it to cut up to 6,000 square feet of lawn on a single charge. You can charge the battery separately by removing it from the mower. The mower enables you to set the cutting height from 2" to 3.5" for giving your lawn the desired appearance. Worx provides a 3-year warranty on the WG775 cordless lawn mower.
Black+Decker CM2040 40V Lithium 20" Mower
The Black and Decker CM2040 is a popular and highly recommended cordless lawn mower. It has a 20" cutting deck with mulching, bagging and side discharge capabilities. The deck is propelled by an electronic motor which is powered by two 40V 2.5Ah batteries. Its motor automatically adjusts the power depending on the thickness of the grass. Homeowners can adjust the cutting height from 1.5" to 4" depending on their requirements. The CM2040 mower is ideal for lawns with an area up to 1/3 acres.