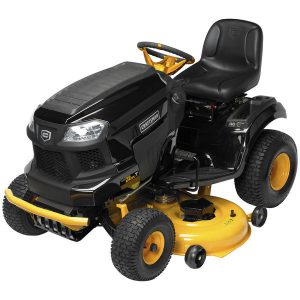 Craftsman is an American company that has been making life easier for their consumers for the past century. They have a wide range of lawn mowers that assist homeowners with their lawn upkeep. Craftsman riding lawn mowers are designed for large yards sprawling across several acres. With features like wide cutting decks, LED headlights that allow evening operation, and cushioned seats that enhance comfort, Craftsman riding lawn mowers make lawn maintenance simple and straightforward. Here are a few popular models from their collection.
Craftsman 20374 46" Auto Riding Mower
The 20374 is a highly recommended Craftsman riding lawn mower that makes it easy to have great looking lawns. It has a 19hp Briggs & Stratton Gold Series engine under its hood that is known for its efficiency and long life. The 13-gauge steel cutting deck has 46" width and two cutting blades for mowing large lawns effortlessly. It supports bag, mulch, and side discharge options. There are five different cutting positions to select a cutting height between 1.5" and 4". The automatic transmission and a regular steering wheel make it easy to operate. You can even mow in reverse if required. Craftsman provides a 2-year warranty on the mower, a 5-year warranty on the frame and a 10-year warranty on the front axle of its lawnmower model 20374.
Craftsman Pro Series 27042 46″ TurnTight Extreme Riding Mower
If your lawn or yard has many trees and poles, then you require a lawn mower with a tight turning radius. The Pro Series 27042 Craftsman riding lawn mower is a great fit for the job. It has a turning radius of 5" that allows it to be maneuvered around tight spaces and mow the lawn with added flexibility. The mower has a 46" reinforced steel cutting deck that supports bag, mulch and side discharge operations. You can choose from twelve adjustable cutting heights between 1" to 4" for giving your yard the desired appearance. A Kohler V-Twin engine provides 24hp power to the mower. Craftsman's Smart Lawn app for smartphones makes maintenance of the lawn mower easy with timely reminders.
Craftsman 20372 42″ 420cc Automatic Riding Mower
Owning a Craftsman riding lawn mower does not have to be expensive and their 20372 model is a perfect example of that. It is an affordable lawn mower that simplifies lawn upkeep while saving your time. The lawn mower comes with a 42" steel cutting deck that has side discharge and bagging capabilities while a kit is sold separately for mulching. There are two steel blades and five different cutting positions for setting the height of the cut from 1.5" to 4". It is powered by a Craftsman 420cc OHV single cylinder engine. An automatic transmission and a speed control pedal make lawn mowing simple. Craftsman 20372 lawn mower comes with a 2-year residential warranty. A 20373 variant is also available with a 17.5hp Briggs & Stratton engine.
Craftsman 25581 42″ Auto TurnTight Riding Mower
The 25581 Craftsman riding lawn mower makes lawn maintenance easy. Its automatic transmission and a turning radius of 6" ensure that your lawn looks great while minimizing the effort required. A Briggs & Stratton Platinum series engine with 19hp power output resides under its hood. Its deck has a cutting width of 42" allowing it to cover large lawns in a short while. The deck has bag, mulch, and side discharge capabilities and supports cutting height from 1" to 4" via six cutting positions. Craftsman provides a 2-year residential warranty on its 25581 lawn mower. A 25583 variant is also available with a 46" wide deck.
Craftsman 20408 54″ Hydrostatic Garden Tractor
Would you like a lawn mower that could assist will all your lawn chores? Presenting the Craftsman 20408 54" hydrostatic garden tractor which not only helps you mow your lawn but is also compatible with accessories like tillers and aerators allowing you to build your dream yard. It comes with a Briggs & Stratton Platinum V-Twin engine that provides a power output of 24hp. The mower deck has a cutting width of 54" and has three steel cutting blades. It supports mulch, bagging, and side discharge options with twelve cutting height positions ranging from 1" to 4". Its capabilities can be expanded by using optional accessories like snow blades and snow throwers. Craftsman provides a 2-year residential warranty on the 20408 hydrostatic garden tractor.