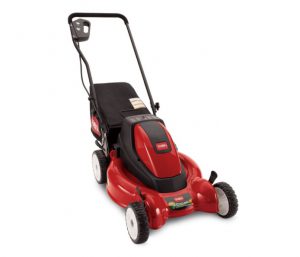 Lawn mowers are a primary requirement to mow gardens and lawns. As most lawn mowers use gasoline as fuel, they emit greenhouse gases. Electric lawn mowers provide an alternate way to mow lawns. They are eco-friendly and do not require any fuel like gas to power them allowing you to contribute to the campaign for a greener earth.
What Are Electric Lawn Mowers?
Electric lawn mowers run directly on electricity (corded) or may have an inbuilt battery that powers them. They contain an electric motor that drives the blades and even the lawn mower itself (in case of self-propelled or riding lawn mowers). An added advantage of electric lawn mowers is that they do not have oil engines hence eliminating the need for oil changes.
Craftsman 39942 19″ 12.5 Amp Corded Electric Mower
The Craftsman 39942 electric lawn mower allows you to mow your lawns in an eco-friendly way. It comes with a 12.5Amp mower that cuts through tough grass with ease thanks to the Turbo Drive technology. Users can choose from six different cutting heights ranging from 1-3/8" to 3-1/2". The deck has a cutting width of 18" and is built from strong polymers making it rust proof. The lawn mower has grass collection, mulch, and side discharge capabilities. The multi-position RotoFit handle is user adjustable and foldable. It comes with a push-button start and cord locks to prevent accidental disconnection.
Troy-Bilt Core Lawn Mowers
Troy-Bilt's Core Series consists of electric lawn mowers that are as powerful as their gas counterparts. There are two variants in the series one of which is a push-type and the other is a self-propelled one. Both the models with a Core 700 Series motor backed by a limited lifetime warranty. The motor runs off a 40V Li-ion battery and can be charged using the 6A fast charger. These lawn mowers come with 21" deep domed steel decks that support three operations – mulch, rear bag and side discharge. There are six different cutting height settings from 1.25" to 3.75". The push-type mower has an MSRP of $499.99 while the self-propelled one retails for $599.99. The models come with a 5-year limited warranty.
Toro e-Cycler 20360
Toro's e-Cycler 20360 is a cordless electric lawn mower that is powerful and environmentally friendly. A 36-volt cordless system powers the e-Cycler that has a 20" mulching deck. The deck has a deep dome design to enhance mulching performance.  It can cover 7,000 to 10,000 sq. ft. on a single charge. Its one-handed controller makes it easy to operate. Standard cutting capabilities include mulch, collection, and side discharge. The height of cut can be set from 1" to 4". It is lightweight at 77 pounds and easy to transport. The e-Cycler has 2-year warranty coverage.
Husqvarna LE 121P
The LE 121P is a versatile push-type electric lawn mower from Husqvarna. It comes with a BDLC brushless motor that is powered by a 40V Li-ion battery. The steel cutting deck is 20" wide. The cutting height can be varied from 0.079" to 2.95". It has a 3-in-1 cutting system that supports collection, mulching, and side discharge. Its 11" rear wheels allow the lawn mower to be operated with minimum effort while enabling it to cover uneven lawns. The dual battery slots allow the lawn mower to cover half an acre at a time. It has an MSRP of $499.95.
Worx WG719 Electric 20" Lawn Mower
Worx WG719 is a corded electric lawn mower that assists in landscaping lawns without affecting the environment. It is rated at 13 amps and requires a power outlet for operation. It has a 19" cutting diameter that can cut through dense grass easily. There are seven different cutting height positions ranging from 1.25" to 4". It is a 3-in-1 lawn mower with mulching, collection and side discharge capabilities. The WG719 has an MSRP of $199.99 and comes with 3-year warranty. A lower priced WG720 model is also available for $149.99.