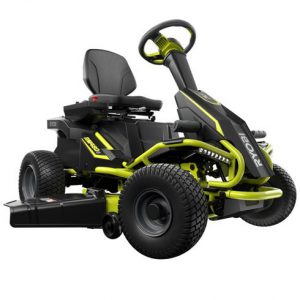 Homeowners who want to own spick and span lawns without polluting the environment can consider purchasing an electric riding lawn mower. These lawn mowers are propelled by electric motors that run off batteries instead of gas engines. They do not produce any greenhouse gases and mow the lawn in an environmentally friendly way. An added advantage of the electric riding lawn mowers is that they do not require regular servicing or oil changes like their gas counterparts. Here are a few electric riding lawn mowers available from different manufacturers.
Ryobi RY48110 75Ah Electric Riding Mower
The Ryobi RY48110 is a great electric riding lawn mower that allows you to maintain large lawns with an area of two acres or more. The lawn mower comes with dual high-powered brushless motors that run off a 75Ah battery system. It has a runtime of two hours allowing it to cover up to 2 acres on a single charge. Its 38" cutting deck has two blades which can cut all types of grass. A twelve-position manual deck adjustment system enables you to set the cutting height from 1.5" to 4.5". Its rear-wheel drive system provides adequate traction for different terrains while the cruise control prevents fatigue. Its low noise and LED headlights enable you to mow at any time without disturbing the neighbors. The package comes with a charger for charging the battery.
CubCadet RZT S Zero Electric Zero Turn Rider
The CubCadet RZT S is another excellent option for homeowners who want an electric riding lawn mower. The mower has four direct drive brushless motors – two for the drive system and two for the deck. It comes with four batteries with a total capacity of 92Ah that provide a runtime of up to sixty minutes. It has a 12-gauge stamped steel cutting deck with a width of 42" and two blades each of which is driven by a separate motor. An eight-position height adjustment system allows the cutting height to be set from 1.5" to 4". The deck supports side discharge and mulching operations and comes with the SmartJet deck washing system. CubCadet RZT S Zero has a 3-year/120 hour limited warranty.
Troy-Bilt TB30 E Lithium-Ion Riding Mower
The Troy-Bilt TB30 E is an electric riding lawn mower that has a low recharge time of just four hours. It comes with a 56 Volt Troy-Bilt electric drive motor that runs off a 56V – 30Ah Lithium-Ion battery. The 30" 14-gauge steel cutting deck of the mower will cut thick grass easily and has side discharge capability. It has a five-position height adjustment system that allows you to give your lawn the desired shape. The mower can mow for up to one hour on a single charge. Features like a wheel steering, foot-operated transmission, and 18" turning radius enhance its maneuverability. It can even be used after sunset thanks to its quiet operation and LED headlight. Troy-Bilt provides a 3-year limited warranty on the TB30 E lawn mower.
Ryobi RY48111 100Ah Electric Riding Lawn Mower
If you need an electric riding lawn mower that has more runtime, then consider Ryobi's RY48111. The mower comes with a larger battery capacity of 100Ah. It gives the mower a runtime of 2.5 hours which is sufficient to cover up to 2.5 acres on a single charge. The mower has a 38" deck with two blades that mows lawns in an efficient and time-saving manner. You have the freedom of selecting a cutting height from 1.5" to 4.5" by choosing one of the twelve adjustment positions. The rear-wheel drive provides increased traction for navigating rough terrains. It also comes with cruise control and USB charging LED headlights.