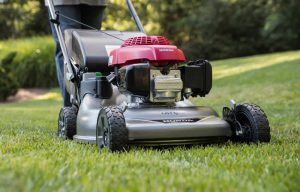 A lawn mower is a great addition to your tool shed as it makes it simple to maintain lawns and own a yard that is the envy of the neighbors. Honda is a popular manufacturer of lawn mowers in the USA. Honda lawn mowers are available in a wide range that contains models to suit different budgets and needs.
HRS Series
The HRS Series of Honda lawn mowers is perfect for homeowners who are looking for a lawn mower that gets the job done. There are two variants available in the series one of which is push-type and the other is self-propelled one. The GCV160 engine with Overhead Camshaft (OHC) powers these Honda lawn mowers that have 8" wheels. Both models have a 21" steel mowing deck and a single blade for cutting the grass. There are six different cutting positions for the blades along with mulching and side discharge capabilities. The push-type lawn mower has an MSRP of $398 while the self-propelled one is priced at $439. They are backed by a 3-year residential usage warranty.
HRR Series
The HRR Series of Honda lawn mowers has maximum features and great performance at an excellent price. The series has push-type and self-propelled variants which might even come with an electric start. All models have the patented twin blade MicroCut System with four cutting surfaces and they are powered by the Honda GCV160 engine. The HRR Honda lawn mowers come with the Clip Director that allows the user to choose between mulch, bag, and discharge capabilities. The cutting width of these lawn mowers is 21" and the mowing height can be adjusted to six different positions. The push-models start at $439 while the top model in the series carries a price tag of $579. A 3-year residential usage warranty covers these lawn mowers.
HRX Series
If you are looking for a premium lawn mower that comes packed with features, consider the HRX Series of Honda lawn mowers. These self-propelled lawn mowers are powered by Honda's GCV190 engine. The Select Drive technology allows users to choose the desired speed. The NeXite deck does not dent or corrode and has a lifetime warranty. The Versamow System of these Honda lawn mowers allows mulch, bag, discharge, and leaf shred capabilities. The twin blade MicroCut System allows precise clipping through its four cutting surfaces. The HRX Series models come with a 5-year mower warranty and with prices starting from $699.
HRC
The HRC models of Honda's lawn mowers are commercial grade mowers designed for heavy duty operation. They are powered by 160cc four-stroke commercial engines and are available in push-type and self-propelled variants. The self-propelled variants have a commercial transmission and a belt-less shaft drive. A 21" rear bagger/mulcher is standard on all models. These Honda lawn mowers have a sturdy and durable steel deck that is protected by a front bumper and edge guards on the sides. The MicroCut twin blades allow ultrafine clippings for precise cutting. The push-type lawn mower model is priced at $749 while the self-propelled ones start at $1149.