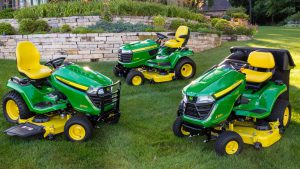 A lawnmower is a necessity for homeowners who want to maintain their yards and lawns themselves. There are many lawn mower brands available in the market that are renowned for their reliable and superior quality lawn mowers. Most of these brands have been manufacturing lawnmowers for decades and have developed innovative technologies from their experience. They have a wide collection of lawnmowers with varying features and options that will suit customers with different requirements and preferences. Here are a few of the most popular lawn mower brands in the USA and across the world today.
Honda
Honda is easily one of the best lawn mower brands in the world today. The company is known for its reliable and durable lawnmowers that have unique features like the NeXite deck, MicroCut twin blades and Select Drive technology. It manufactures walk-behind mowers for residential as well as commercial purposes. The company also manufactures lawn mower engines that are used by other brands of lawn mowers as well. Its engines are powerful as well as longlasting.
Toro
Toro is a century-old company that has been manufacturing outdoor equipment which includes lawnmowers. Its focus on developing intuitive technologies for mowers has made it one of the best lawn mower brands. It has a wide selection of walk-behind, riding, and zero turn mowers in its lineup. Toro designs mowers for residential, semi-professional and heavy-duty commercial usage.
Husqvarna
When it comes to outdoor equipment, Husqvarna is the largest manufacturer in the world. Its lawn mowers are as popular as other products. Husqvarna manufactures lawn mowers for residential as well as commercial use. Its selection of lawnmowers has riding lawn mowers, zero turn lawn mowers, riders, commercial mowers, walk-behind mowers, stand-on mowers, and even robotic lawn mowers.
John Deere
John Deere is another reliable name when it comes to lawn mower brands. It manufactures walk-behind mowers, zero turn radius mowers, lawn tractors, and robotic mowers for residential usage. These residential mowers range from the 100 Series models that are affordable and versatile to the X700 Signature Series with premium products. The professional listing of the brand includes commercial mowers for heavy-duty operation, golf-mowers, and sports turf mowers.
Cub Cadet
Cub Cadet is a lawn mower brand renowned for its wide selection of lawn mowers built in the USA. The brand markets walk-behind mowers, zero-turn mowers, and heavy-duty lawn tractors for residential and professional usage. It has been in the lawn mower business since 1961 and has created many technological breakthroughs that are the highlight of its products.
Troy-Bilt
Troy-Bilt is famous for its sizeable collection of lawn mowers that come packed with features and are easy on the pocket. Its collection includes walk-behind mowers, lawn tractors, and zero-turn tractors. Troy-Bilt lawn mowers come in different sizes to cater to the requirements of the owners of small and large yards.
Greenworks
Greenworks is one of the many lawn mower brands that has been making environmentally friendly lawnmowers. Their collection includes a wide selection of corded and cordless lawn mowers that do not emit greenhouse gases and free their owners from the hassles of oil changes and routine maintenance. The performance and cutting quality of the Greenworks mowers is as good as conventional gas mowers.