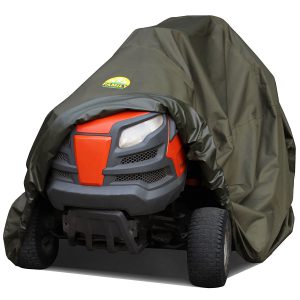 Every homeowner with immaculate and well-trimmed lawns owns a quality lawn mower that makes lawn maintenance easier for them. Lawnmowers are a significant investment, and they can cost anywhere from a few hundred to thousands of bucks. Their cost makes it important to invest in a lawn mower cover. Most residential owners need to use their lawn mowers occasionally. The lawn mowers are stored in a garden shed or a storage area for most of the year. They will accumulate dust and dirt if left uncovered. Their engine and blades may deteriorate or corrode if exposed to dirt, dust, and moisture for long durations. A lawn mower cover can protect the lawn mower and increase its lifespan. It will also ensure that the lawn mower yields optimum performance while minimizing maintenance and repair costs. Here are a few popular lawn mower covers that can help keep your lawnmower in prime condition.
WeatherPro Lawn Mower Cover
WeatherPro's lawn mower cover is a popular choice for homeowners. The cover is made from a heavy-duty 300D material that is long lasting and tear resistant. It comes in a large size and has universal fitting making it suitable for most push mowers available from different brands. The cover is water and UV resistant and protects your lawn mower from rain and moisture while ensuring that your possessions do not lose color over time. A drawcord at the bottom ensures a snug fitting for maximum protection. WeatherPro lawn mower cover comes with a 1-year guarantee.
ToughCover Premium Waterproof Lawn Mower Cover
Homeowners who want to buy a high-end lawn mower cover can consider ToughCover's premium waterproof cover. The cover is made out of heavy-duty 600D marine grade fabric that is tear resistant. It will envelop the mower from all sides ensuring complete protection. It has a universal fitting allowing it to be used for all types of push, walk-behind and electric mowers from different brands. The cover is water and mold resistant making it ideal for areas that have high moisture or receive a lot of rainfall. Its added UV protection maintains the aesthetic appearance of your mower. ToughCover offers a 30-day money back guarantee on its premium waterproof lawn mower cover.
Family Accessories Waterproof Riding Lawn Mower Cover
If you own a riding lawn mower, then consider the waterproof riding lawn mower cover from Family Accessories. It is designed for medium-sized riding lawn mowers and measures 72"x44"x43". The cover is woven out of 600D polyester fabric that is tough and will last for years to come. A polyurethane coating makes the cover waterproof and protects your riding mower from the rain. There are two vents provided that allow the air to cross and prevent condensation which can otherwise cause corrosion. Its elastic hem ensures a snug fitting while a UV resistant coating prevents discoloration of the cover due to sunlight. Family Accessories provides 1-month money back guarantee and a 12-month warranty on its products.
Classic Accessories 73997 Zero Turn Riding Lawn Mower Cover
The 73997 lawn mower cover from Classic Accessories is designed for zero turn riding mowers. It is woven out of Weather-X Fabric that makes it weather and mildew resistant. The cover does not shrink or stretch over time and can fit zero turn mowers that have a maximum deck width of 50". The bottom hem of the cover has an elastic shock cord that allows a snug fit and makes it easy to cover the mower. It has reinforced moisture vents to prevent the build-up of moisture due to condensation or ballooning of the cover in windy conditions.