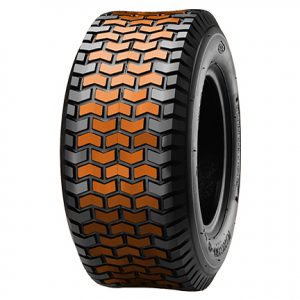 The tires of a lawn mower may get worn out and require replacement after a few years. Some owners may also feel the need to upgrade their tires to the ones that are most suited for their lawns and yards. Choosing the right set of lawn mower tires is important as the performance of the lawn mower also depends on the quality of its tires. A lawn mower used in wet areas will require tires that provide greater traction than a lawn mower used for mowing flat terrains. Using wrong tires may increase fuel consumption, decrease control and grip, and hamper the quality of the cut. Selecting the right lawn mower tires can be quite confusing due to the large variety of available options. Here are a few excellent lawn mower tires from different brands that you can consider for buying.
Wanda 13×5.00-6 Lawn Mower Turf Tires P512/4PR – 13106
If you are looking for lawn mower tires with dimensions of 13×5.00-6, then Wanda's P512/4PR – 13106 are a great choice for you. They are heavy duty tubeless tires that can withstand a maximum load of 440lbs at 40psi. The tires feature 0.20" treads and have a square shoulder design for ensuring maximum traction and stability on uneven and slippery terrains. The treads are turf-friendly and minimize the impact of the mower on the grass. Their compound construction ensures that the tires will last for years to come.
Autoforever Turf Tires 15×6.00-6 Turf Master Tread 15/6-6 4PR
The Autoforever 15X6.00-6 turf tires come with treads for increasing the traction and providing a superior grip on slopes and uneven terrain. These lawn mower tires are an excellent choice for individuals who live on hills. Their 0.23" treads feature the turf tech design that protects the grass from the weight of the mower. They are tubeless tires constructed from 4 ply nylon that is sturdy and minimizes the chances of punctures and abrasions resulting from thrones or sharp objects. The tires can bear a maximum load of 570lbs at 30psi pressure.
CST C165S 16×6.50-8 Turf Tires 4 Ply
CST C165S tires are the best choice for individuals who want traction without compromising the outlook of their lawn. These tires come with a modified chevron pattern that increases the amount of traction offered. The tires have slightly rounded shoulders that make them turf-friendly. The tires can withstand a load of 615lbs at 28psi pressure. C165S tires have a 4-ply rating and 0.16" treads.
Carlisle Super Lug Lawn & Garden Tire – 20×10-8
Carlisle's Super Lug lawn mower tires have an innovative design that provides excellent traction. These tires have large deep lugs like those found on tractor tires which allow them to traverse rugged and wet terrains easily. The groove design of the tires protects the grass from flattening under pressure. They are constructed out of a 4-ply material that is sturdy and long-lasting. Carlisle's Super Lug tires are an ideal fit for buyers whose priority is higher traction.
Antego ATW-003 24×12.00-12 4 Ply Turf Tires
The Antego ATW-003 24×12.00-12 turf tires might be a good option for individuals who have large lawn mowers. These tires come with treads that are designed to maximize traction while ensuring stability making them great for rugged terrains. The tires have a rounded shoulder that makes sure that the grass stays intact when turning the mower. They have a 4-ply rating and can bear a load of up to 1710lbs. at 20psi. Antego lawn mower tires have a durable construction and last for many years.