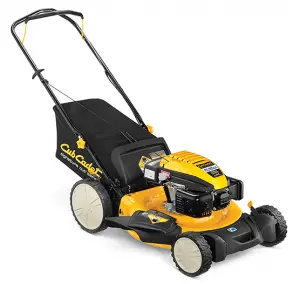 There is a wide selection of lawn mowers available for the buyers in the market. They make lawn maintenance a breeze and suit the budgets of different people. Out of these, the push lawn mowers are the most popular type of lawn mowers in households across the USA.
What are Push Lawn Mowers?
Push lawn mowers have their cutting blades driven by a gas or electric engine. But the engine does not power the wheels. The user will have to move the lawn mower by pushing it around. Push lawn mowers are ideal for small lawns or those having narrow grass covering. They even help you achieve your daily workout goals without hitting the gym. Here are a few popular push lawn mowers.
Cub Cadet SC100HW Push Lawn Mower
Cub Cadet's SC100HW is an affordable and feature-packed push lawn mower. A 159cc Cub Cadet engine propels its cutting blade. The 21" steel cutting deck will quickly tend to home gardens and lawns. Its 3-in-1 cutting system allows mulching, rear bagging, and side discharge. The deck has an inbuilt high-pressure washing system for quick cleaning. Users can choose from six deck positions and adjust the cutting height from 1.25" to 3.75" using dual levers. It has an MSRP of $249 and is covered by a 3-year limited residential warranty.
Honda HRR216PKA Push Lawn Mower
Honda's HRR216PKA is a highly recommended push lawn mower. The Honda GCV 160 engine drives its MicroCut twin blades that have four cutting surfaces. The 21" mounting deck is made from durable steel and is built to last. Users can choose between mulching, rear bagging, and rear discharge by sliding the Clip Director switch. There are six different deck positions and a lever allows the cutting height to be adjusted from 1.125" to 4". It comes with an MSRP of $439 and has a 3-year full residential warranty.
Husqvarna 7021P Push Lawn Mower
Another great option for buyers looking for a push lawn mower is the Husqvarna 7021P. It has a 160cc Honda engine under its hood. Its 21" steel deck is built for heavy-duty operation and supports mulching, side discharge, and rear bagging capabilities. There is four-point cutting height adjustment that supports heights ranging from 1.25" to 3.42". The mower has 12" rear wheels that allow it to be used on uneven and rugged terrains. Husqvarna 7021P has an MSRP of $299.95 and comes with a 3-year warranty.
Troy-Bilt TB120 Walk-Behind Push Mower
The TB120 from Troy-Bilt is a value for money push lawn mower. A 159cc Troy-Bilt engine powers the TriAction cutting system of the lawn mower. It has a 21" steel mulching deck that supports side discharge, rear bagging, and mulching operations. Users can choose from six height settings varying from 1.25" to 3.75" using the dual lever. It has a price tag of $239.99 and is backed by a 2-year limited warranty.
Worx (14″) 24-Volt Electric Lawn Mower WG775
The Worx WG 775 is an affordable push lawn mower that is also environment-friendly. It has a 14" cutting deck that is powered by a 24-volt lead-acid battery. It allows the user to set the deck to three different positions with cutting height ranging from 2.0" to 3.5". There are three cutting options provided that include bagging, mulching, and rear discharge. The lawn mower can cut an area up to 6,000 sq. ft. on a single charge. The Worx WG775 is priced at $199.99 and comes with a 3-year consumer warranty.