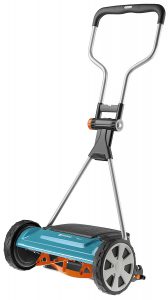 Reel lawn mowers are a great choice for people who like to mow their lawns the classic way. These lawn mowers do not require any power source and do not incur any running cost. They even help to protect the environment as they do not emit greenhouse gases like gas mowers. Reel lawn mowers are cheap to buy and easy to maintain. You can even workout without hitting the gym. If you are looking for a reel lawn mower, consider the following popular models available from different manufacturers.
American 1815-18 Reel Push Mower
The American 1815-18 reel lawn mower allows you to mow your lawns the old-fashioned way. It has a cutting width of 18" that is adequate for residential lawns. It comes with four spider blades that cut the grass effortlessly. You can set the cutting height from 0.5" to 2.75" and give your yard the desired appearance. It has plated handle with a loop design and full-length foam that makes it easier to use the lawn mower. American 1815-18 reel lawn mower comes with a 2-year limited warranty.
Earthwise 2001-20EW 20" 5-Blade Reel Mower
The Earthwise 2001-20EW is a reel lawn mower that helps you keep your lawns spick and span. Its 20" cutting width allows you to cover a large area in less time. The mower has a ball-bearing reel constructed out of tempered steel. It contains five bedknife blades that provide superior quality of cut. You can set the cutting height from 1" to 3" depending on the outlook you want for your lawns. Its 10" composite front wheels and 6" rear tracking wheels improve its maneuverability. The mower has an ergonomic V-style handle with cushioning for enhancing the user's comfort.
Remington RM3100 Reel Lawn Mower
The Remington RM3100 is another reel lawn mower that is popular among homeowners. It comes with an 18" cutting deck designed for medium-duty usage. The mower has a 2-in-1 mulcher that supports rear bagging function in addition to mulching. Its reel has five durable blades designed for maximum performance. Homeowners can set the cutting height by choosing one of the nine adjustment positions using a dual-lever system. It has 10" front wheels, 6" rear wheels and an ergonomic handle for enhancing user comfort. Remington RM3100 comes with a 2-year limited warranty.
Husqvarna 64 Push Reel Lawn Mower
Husqvarna designed its 64 reel lawn mower with the same attention to detail as its other models. The mower comes with an extra hardened reel blade and bedknife that provide superior quality of cut while being longlasting. It has a 16" cutting width which is ideal for small lawns found in urban and semi-urban households. There are virtually infinite cutting height adjustment settings from 0.5" to 2.2". It has ball-bearing wheels that improve the maneuverability of the mower. An optional collector can catch grass clippings for a neat and clean looking lawn.
Gardena 4022 Comfort Hand Cylinder Lawnmower 400 C
The Gardena 4022 is a reel lawn mower that is designed to enhance the comfort of the user while providing superior cutting quality. The mower has a cutting width of 40cm and supports a cutting height from 12mm to 42mm. Its contact-free cutting technique ensures that the cutting cylinder and bottom blade do not touch but work like scissors. The technique reduces the effort required as well as the amount of noise produced. It has large wheels with special treads that improve the traction while and a foldable ergonomic handle provides excellent handling.