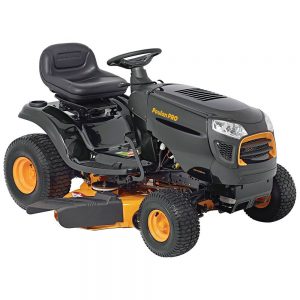 Riding lawn mowers are the ideal choice for homeowners who have lawns spread over several acres. These mowers have large decks and powerful engines that allow them to mow large areas in a time-saving manner. Choosing the right riding lawn mower for your yards can be quite tricky. Riding lawn mower reviews can assist you in finding the right mower for your needs. These reviews are from homeowners who have been using the mowers for quite some time. Here are a few models with the best riding lawn mower reviews. 
Troy-Bilt 382cc Premium Neighborhood Riding Lawn Mower
The Troy-Bilt 382cc Premium Neighborhood mower is the perfect choice for homeowners who need a compact model having excellent riding lawn mower reviews. The mower has a 30" cutting deck that makes lawn mowing easier and saves space in the garden shed. It is powered by a 382cc Powermore OHV engine that is durable and sturdy. Homeowners can set the cutting height by choosing one of the five adjustment settings. Its excellent reviews are complemented by a tight turning radius of 18" that improves its maneuverability and mowing precision. Troy-Bilt Premium Neighborhood Rider comes with a 2-year limited warranty.
Husqvarna YTH24V48 Yard Tractor
The Husqvarna YTH24V48 is a great option for homeowners who make their purchase based on riding lawn mower reviews. It has a powerful 24hp Briggs & Stratton Intek Series V-Twin engine under its hood. The mower comes with a 48" steel cutting deck that will mow the thickest grass with ease. Features like foot-operated hydrostatic transmission, cruise control, air induction mowing technology, fender-mounted cutting height adjustment system and electric blade engagement reinforce its reviews. Additional elements like ergonomic steering, headlights, deck wash port, and high-back adjustable sliding seat further add to the value of the Husqvarna YTH24V48 lawn mower.
Yard Machines 420cc Riding Lawn Tractor
The Yard Machines 420cc riding lawn tractor is another model that has superb riding lawn mower reviews. A powerful 420cc engine resides under the hood of the mower. Its 42" cutting deck will mow large areas in a time-saving manner. It can also be used for mulching and bagging depending on your requirements. The 7-speed Shift-On-The-Go transmission is simple to operate and allows you to change the speed without having to stop. Its large rear wheels make it suitable for all terrains while an ergonomic seat minimizes fatigue. Yard Machines riding lawn tractor comes with a 2-year limited warranty.
Poulan Pro PP155H42 Riding Lawn Mower 960420182
Buyers who are looking for a Poulan Pro model that has outstanding riding lawn mower reviews can consider the PP155H42 riding model from the brand. It comes with a Briggs & Stratton PowerBuilt engine that has 15.5hp power output. Its 42" stamped deck is constructed out of 13-gauge reinforced steel and has mulching, bagging, and side discharge capabilities. There are six cutting height adjustment positions provided that allow homeowners to choose a cutting height from 1.5" to 4". The automatic transmission and a tight turning radius of 6" make it easy to use the mower and allow it to navigate yards with narrow paths and tight spaces. Additional features include reverse mowing capability, large rear tires, headlights and a comfortable vinyl seat. Poulan Pro provides a 2-year consumer warranty on its PP155H42 riding mower.
Ryobi RY48111 Electric Rear Engine Riding Lawn Mower
If you are looking for a model that allows you to mow lawns in an environmentally friendly way and also has fantastic riding lawn mower reviews, then Ryobi RY48111 is the mower for you. It comes with high powered brushless motors that propel its deck and power its rear-wheel drive system. A 100Ah rechargeable battery provides power to the motors and yields a runtime of up to 2.5 hours on a single charge. It has a 38" cutting deck with two blades that have excellent cutting quality. Its 12-position adjustment system allows you to choose a cutting height from 1.5" to 4.5". The mower comes with cruise control and LED headlights.