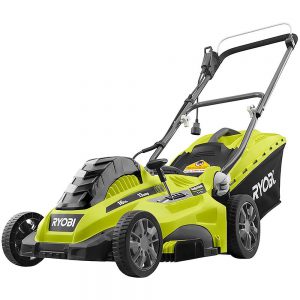 Ryobi manufactures a wide range of intuitive lawn mowers that make landscaping your yards a breeze. Their lawn mowers run on batteries or are directly plugged into mains allowing you to mow your lawn without impacting the environment. The lawn mowers do not require regular servicing or maintenance and are easy to operate. Here are some of their most popular lawn mowers that will suit different budgets and requirements.
Ryobi 40V 20 In. Brushless Mower (RY40180)
The RY40180 brushless lawn mower is one of the best-selling models from Ryobi. It comes with a brushless motor that is powered by a 40V 5Ah battery. The outstanding feature of the motor is its load sensing technology. It automatically increases the power for mowing down thick grass and reduces the power when not needed for improving the runtime. The mower comes with a 20" mowing deck that has mulching and bagging capabilities. The 7-point height adjustment allows you to set the cutting height from 1.5" to 4". Its high intensity LED lights and low noise enables you to mow your lawn during day or night. The mower can be folded up after use and takes minimal space in your garden shed. It comes with a Ryobi 5-year warranty.
Ryobi 13 Amp Electric 15 In. Mower (RYAC160)
If you prefer an electric lawn mower that runs directly of mains instead of batteries, consider the Ryobi 13 Amp electric lawn mower. It is lightweight at just 32lbs. as it does not have any batteries which reduces the effort required for operating it. Besides freeing you from the hassles of regular servicing and oil changes, it allows you to mow your lawn in an environmentally friendly way. The 16" deck comes with mulching and bagging functionalities and is adequate for mowing home lawns. You can choose a cutting height between 1" and 2.5" to mow your lawn as per your requirements. The lawn mower is backed by a 3-year warranty from Ryobi. The Ryobi RYAC130 is another corded mower with a 13-inch mowing deck and is suitable for compact lawns.
Ryobi 16" 18v One+ Lithium+ Hybrid Mower (P1121)
The Ryobi P1121 is a versatile electric mower that can function on batteries as well as mains. It comes with an 18V 4.0Ah Li-ion battery that enables cordless operation. Homeowners can switch to corded operation using an extension cord if the battery runs out. The mower has a 16" cutting deck that supports mulching and bagging. Its compact size makes it ideal for small lawns and yards with tight spaces. The grass cutting height can be adjusted from 1.25" to 3.25" as required using the 5-position height adjustment. It comes with two battery ports that present users with the option of installing a second battery for additional cordless runtime. Ryobi provides a 3-year warranty on the mower. Consider Ryobi's P1111 lawn mower if you are looking for a battery only model.
Ryobi 40V 20 In. Brushless Self-propelled Mower (RY40190)
The Ryobi brushless self-propelled lawn mower makes mowing grass effortless and environmentally friendly. It comes with a rear wheel drive system that allows it to cover plain areas and hill slopes equally well. It features a brushless motor that has load sensing technology that either maximizes power or increases run time depending on the mowing requirements. The 20" deck can cover lawns quickly and facilitates bagging and mulching functions. A 40V 5Ah Li-ion battery powers the lawn mower. The 7-position height adjustment allows the cutting height to be set between 1.5" and 4". It can be stored vertically and occupies minimum space in the garden shed. The mower comes with a 5-year warranty.
Ryobi 100Ah Electric Riding Mower (RY48111)
The Ryobi 100Ah electric riding mower makes it easy to maintain large yards while being environmentally friendly. It is a rear wheel drive mower and has a 38" two-blade deck that can mow thick grass efficiently. The mower comes with dual brushless motors that are powered by a 100Ah battery. The battery can provide up to 2.5 hours of runtime allowing the mower to cover 2.5 acres on a single charge. Users can adjust the cutting height from 1.5" to 4.5" using the 12-point manual deck adjustment. The mower comes with convenience-enhancing features like the USB charging LED headlights and cruise control. Another variant with 75Ah battery is also available.