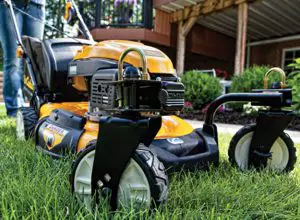 All homeowners dream of lush green and well-trimmed lawns. Maintaining a lawn requires commitment and hard work which can be tiresome especially on medium and large sized lawns. Self-propelled lawn mowers can drastically reduce the time and effort required for lawn maintenance without denting your bank account significantly. These lawn mowers come with a drive system which eliminates the need for pushing them. The user just walks behind these lawn mowers and steers them around curves and garden beds.
Types of Self Propelled Lawn Mowers
The self-propelled lawn mowers can be classified into three types depending on their drive system.
Front Wheel Drive – Self-propelled lawn mowers with front-wheel drive are the most affordable. The engine provides power to the front two wheels of these lawn mowers. They are primarily suited for flat gardens and yards with tight spaces.
Rear Wheel Drive – Lawn mowers with rear wheel drive have the engine power routed to rear wheels that allows them to cover uneven grounds easily. They are great for lawns that do not have a uniform terrain.
All Wheel Drive (4X4) – In an all-wheel-drive system, the engine drives all four wheels of the lawn mower. Their drive system provides extra traction and grip allowing them to cover slippery and wet grounds. Self-propelled lawn mowers with all-wheel drive are comparatively expensive than other models. They are best suited for gardens and lawns with wet grass.
Popular Self Propelled Lawn Mowers
There are multiple companies that manufacture self-propelled lawn mowers. They have a wide range of models that will suit buyers with different needs and budgets. Here are a few popular models that come with high recommendations from customers.
Toro Recycler SmartStow 20339
Toro's Recycler SmartStow 20339 is an entry level self-propelled lawn mower. It is powered by a Briggs & Stratton 163cc engine that does not require an oil change. The mower is equipped with a front wheel drive system making it ideal for lawns with narrow spaces. A 22" recycler deck provides mulching, collection, and side discharge capabilities. The lawn mower can be stored vertically with no oil leakage. Consider the Toro Recycler 20353 if you need an all-wheel-drive lawn mower. It comes with similar features.
Cub Cadet SC500HW
Cub Cadet SC500HW is a great option if you need a self-propelled lawn mower with a rear wheel drive system. A 159cc Cub Cadet engine powers the lawn mower and allows the user to set the speed. It has a 21" steel deck that allows mulching, rear bagging, and side discharge capabilities. Its 11" rear wheels allow it to be used on uneven terrains easily. Buyers who need a lawn mower having similar features but with a front wheel drive can consider Cub Cadet SC300HW.
Husqvarna HU800AWDH
If you feel that an all-wheel-drive system is a right choice for you consider Husqvarna HU800AWDH self-propelled lawn mower. It is propelled by a 190cc Honda engine allowing it to navigate hilly terrains and wet grass. The all-wheel-drive provides enough traction to prevent slippage. It comes with a 22" heavy-duty steel deck that facilitates mulching, rear bagging, and side discharge. An inbuilt washout port makes it easy to clean the deck. Consider the LC221R if you need a rear wheel drive lawn mower from Husqvarna that is affordable and rich in features.