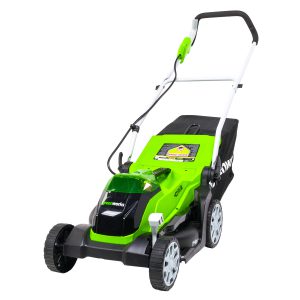 Lawnmowers are available in various sizes to suit needs of different customers. Homeowners who live in urban areas and have small yards can opt for small lawn mowers. These mowers have small cutting decks and occupy minimum space in the garden shed. They are also more affordable and easier to maintain. Here are a few small lawn mowers that are popular among homeowners.
Greenworks MO40B410 14-Inch 40V Cordless Lawn Mower
If you are looking for a small lawn mower that is also eco-friendly, then consider the Greenworks MO40B410 cordless model. It is a compact and lightweight mower that comes with a 14" deck which is adequate for small lawns and yards. Its versatile 2-in-1 deck supports mulching and rear bagging cutting methods. A 40V 4Ah Lithium battery powers the motor of the mower and yields adequate runtime to mow most residential lawns on a single charge. Its single-lever 5-point height adjustment system allows you to set the cutting height from 1.125" to 3.375" for giving your lawn the desired appearance. Greenworks MO40B410 mower comes with a 4-year warranty.
Sun Joe MJ401E Electric Lawn Mower
Need a small lawn mower that is powered by electricity? Then the Sun Joe MJ401E is the suitable option for you. It is a corded lawn mower with a powerful 12Amp motor powered by mains socket. This small lawn mower comes with a 14" deck that is sufficient for small residential lawns. The deck supports bag and discharge cutting methods and has a 3-position control for setting the cutting height from 1.18" to 2.52". The included grass bag has a capacity of 10.6 gallons.  Sun Joe provides a 2-year full warranty on its MJ401E electric lawn mower.
Worx WG779 Lawn Mower
The Worx WG779 is an ideal choice for buyers who want a small lawn mower with mulching capabilities. It has a 14" cutting deck with IntelliCut technology that adjusts the power as required. The deck supports bagging and side discharge operations in addition to mulching. A single-lever 6-position adjustment system enables you to choose a cutting height between 1.5" to 3.5". It comes with two 20V 4Ah batteries that provide increased runtime and allow the mower to cover up to 5,000 square feet on a single charge. Worx WG779 lawn mower comes with a 3-year warranty and a 90-day guarantee.
Yard Machines 11A-02SB700 Push Mower
The Yard Machines 11A-02SB700 push mower is a good alternative for buyers who need a small lawn mower with a gas engine. Its 20" cutting deck has side discharge capability and is adequate for small to medium-sized residential lawns. Homeowners can choose from one of the three adjustment positions to set the cutting height from 1.25" to 3.75" and give their lawns the desired appearance. It has a Powermore OHV engine with a displacement capacity of 140cc. Yard Machines provides a 1-year limited warranty on its 11A-02SB700 push mower.
BLACK+DECKER MTE912 3-in-1 Compact Mower
Homeowners who are looking for a versatile small lawn mower that can help them in landscaping their lawns and yards can consider the BLACK+DECKER MTE912 mower. It is a multi-purpose tool that can be used for mowing, edging and trimming, giving you complete control over the appearance of your lawn. The compact mower will cut and trim grass and remove weeds. It comes with a 6.5Amp motor that provides adequate power for all functions. The Automatic Feed Spool makes trimming simple and hassle-free. It has a 12" cutting deck making it suitable for small lawns. Homeowners can adjust the cutting height from 1.6" to 2.4".