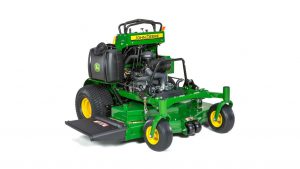 Every homeowner wants to own elegant lawns that are in tiptop condition. However, in today's busy life, not everyone has the time to tend to their lawns. There are many companies that provide lawn maintenance services. They mow lawns owned by homeowners or organizations. The companies employ commercial lawn mowers which have high-grade commercial lawn mower parts designed for heavy duty usage. These mowers can be operated for several hours at a stretch and can mow several acres nonchalantly. As commercial lawnmowers are used extensively, their components have to be often replaced with commercial lawn mower parts. Here are a few frequently replaced commercial lawn mower parts available from different manufacturers.
Maxpower 561713X Commercial Mulching 2-Blade Set for 42 Inch
Blades are one of the most frequently replaced commercial lawn mowers parts. Commercial lawn mowers are in use every day of the year. Their blades continuously mow lawns for several hours a day. The amount of friction that the blades experience is high, and they must be able to withstand that. Commercial lawn mowers need special replacement blades that are designed for heavy-duty usage. Maxpower manufactures high-quality commercial blades. The Maxpower 561713X commercial mulching blades are the ideal replacement for 42" cutting decks and have a superior mulching capability though they can be equally effective for bagging the grass. They will fit riding lawn mowers from most brands that include Craftsman, Husqvarna, and Poulan among others. They can replace parts with OEM numbers 134149, 138971, 138498, 127843, and PP24003 found in lawn mowers of different brands.
Maxpower 331749X Commercial Mulching Blade
Commercial lawn mowers are available in riding style as well as walk-behind mowers. The blades of walk-behind commercial mowers also require replacement frequently. The Maxpower 331749X commercial mulching blade is the replacement part for walk-behind commercial mowers having a 22" cutting deck. It is a mulching blade that will fit lawn mowers of different brands which include Poulan, Craftsman, and Husqvarna among others. It has been designed to provide superior lift for excellent mulching capability.
Marathon 15×6.50-6″ Flat Free Tire
A tire is another commercial lawn mower part that has to be often replaced. Commercial lawnmowers can cover several acres in a day. As the lawnmowers are used on different types of terrains, they can encounter sharp objects that might cause flat tires. They need robust and long-lasting tires that can withstand heavy workloads. Marathon is a company that manufactures heavy-duty commercial lawn mower tires. Their flat-free tires are a great option for commercial mowers as they never go flat. The Marathon 15×6.50-6″ flat-free tires are an ideal replacement for front wheels of most commercial lawn mowers. They are non-marking tires that do not flatten the grass. Each tire has a load capacity of 400lbs. The tire is made of lightweight solid polyurethane and is long lasting.
N2 H518 Deck Engagement Cable
Commercial lawn mowers have a deck engagement mechanism to make the cutting deck operational for mowing. The mowers use a lever that tightens the mower drive belt for propelling the blades of the deck. As the mowing deck is engaged and disengaged regularly, the deck engagement cable is under constant stress. It will experience wear and tear and may eventually break. The N2 H518 deck engagement cable is an ideal replacement for 42" cutting decks of riding mowers from different brands. It will replace existing cables on different decks including those with part numbers 169676, 532175067, 175067, 532193235 & 532169676. It comes with the spring eliminating the need to purchase it separately.