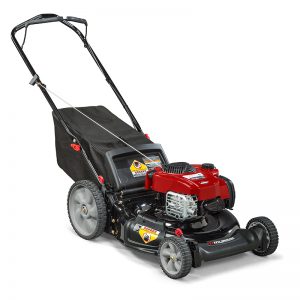 Murray has been manufacturing garden tools and equipment for over nine decades. Murray lawn mowers are known for their versatility and affordability. Their collection of lawn mowers simplifies lawn care while allowing you to save time and energy. Here are a few of their popular and highly recommended lawn mowers.
The MP21450 21" push mower is an entry-level Murray lawn mower that makes it easy to take care of your lawns. The lawn mower is powered by a Briggs & Stratton 450e Series engine with 125cc displacement. It has a 21" deck that will make quick work of mowing small and medium-sized home lawns. The user can choose between mulching and side discharge cutting options. It has a 4-point height adjustment system with 5-positions that allow the users to choose the desired cutting height. The lawn mower comes with a 2-year limited warranty.
Homeowners who are looking for a more powerful Murray lawn mower can consider the MP21500HW 21" push mower. It comes with a 140cc Briggs & Stratton 500e Series which coupled with 11" high rear wheels make it ideal for yards with slopes or uneven terrains. The 21" steel deck facilitates mulching and side discharge cutting options and mows home lawns in a short time. Homeowners can choose from five different cutting positions to give their lawns the desired look. The lawn mower is backed by a 2-year limited warranty.
If you need a versatile lawn mower that provides you with multiple options for mowing yards, then the MP21625 Murray lawn mower is ideal for you. It is a push mower that has the Briggs & Stratton 150cc 625EXi Series engine. There is no need to change the engine oil, only top it up as required. Its deck has a cutting width of 21" and homeowners can choose from six cutting positions using a dual-lever for adjusting the height between 1.25" to 3.75". You can select between mulching, rear bagging, and side discharge cutting options. The 11" rear wheels allow it to cover uneven terrains. The mower comes with a 2-year limited warranty.
Murray's MP21500 lawn mower is designed for mowing flat lawns up to 1/2 acre. Its Briggs & Stratton 140cc 500e Series engine will mow down thick grass with no problem whatsoever. The 21" steel deck ensures that lawns are mowed down in a short time. It supports mulching, bagging and side discharge capabilities. There are six cutting positions provided for adjusting the grass height that can be selected using dual-lever. Murray provides a 2-year warranty on the mower.
Need a Murray lawn mower that allows you to landscape your lawn with high precision? Take a look at Murray's 34" Zero Turn Mower. It comes with the Briggs & Stratton 15.5 HP Intek engine with 500cc displacement. The dual hydrostatic transmission, lever steering, and a turning radius of zero make it easy to operate the lawn mower. Riders can choose from six different driving speeds. It has a 34" steel deck that is ideal for yards up to 1 acre. The blades can be engaged using an electric switch. A lever allows adjustment of the cutting height. The Murray M175-42 zero turn mower has a 3-year limited warranty.
Murray 20 in. 125 cc Briggs & Stratton Gas Walk Behind Push Mower (152506)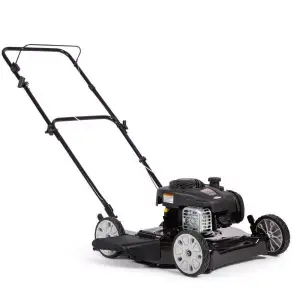 Murray 152506 Walk Behind Push Mower is a recently-released Murray lawn mower model. It has a Briggs and Stratton engine under its hood with a displacement capacity of 125cc. Its main highlight, the Prime E-Z Starting System, allows you to start the mower with a single pull of the cord. The 21-inch steel deck of this Murray lawn mower will enable you to mow your lawn while getting your daily dose of exercise. A 4-point adjustment system facilitates five cutting height positions for giving your yard the desired appearance. The mower has four 7-inch wheels and comes with a side discharge chute. It will fit the requirements of most urban households.
Murray 21 in. 140 cc Briggs & Stratton Gas Walk Behind Push Mower (152702)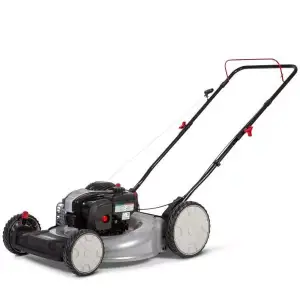 The Walk Behind Push Mower 152702 is another updated Murray lawn mower model that was introduced recently. It is powered by a Briggs and Straton 140cc gas engine that features the Prime EZ starting system. Its 22-inch steel cutting deck with 2-in-1 capabilities can be used either for side discharging or mulching. A dual-position system allows you to choose from six different cutting heights via two levers, one for the front and the other for the rear. The mower comes with 8-inch front and 11-inch rear wheels, making it suitable for all terrains while improving its maneuverability. Buyers who want a powerful walk-behind Murray lawn mower will find it ideal.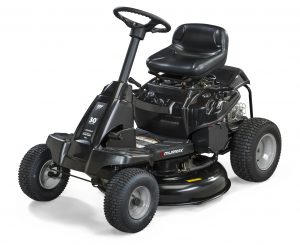 Individuals or professional lawn mowers who need a small Murray lawn mower that can cover one acre may consider Murray 30" 10.5 HP Riding Mower. It is equipped with a Briggs & Stratton PowerBuilt Engine that outputs 10.5 HP of power. The transmission used is a 6-speed one and features the shift-on-the-go technology for convenient shifting. Its 30-inch deck is ideal for mowing yards up to one acre in area. It has a tight turning radius of 18-inch and can be easily maneuvered in tight spaces. The 13CC26JD058 Murray lawn mower may fulfill residential and small-scale commercial landscaping needs. Buyers can additionally purchase mulching and bagging kits to enhance the mower's functionality.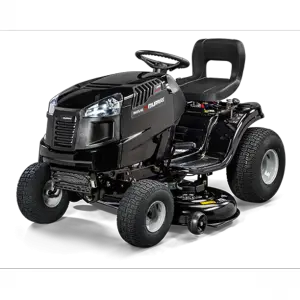 If you need a heavy-duty Murray lawn mower, then consider their 13AN77SS058 Riding Lawn Mower. It is a ride-on mower with a 42-inch deck and suitable for covering a couple of acres. A robust 500cc PowerBuilt Engine from Briggs and Stratton propels this mower and outputs 17.5HP of power. The 7-speed shift-on-the-go transmission, 15-inch front and 20-inch rear Turf Saver tires, and 18-inch turning radius of the mower make it suitable for flat and hilly terrains alike. The 13AN77SS058 Murray lawn mower has plenty of comfort-enhancing features, including the Anti-Vibration System, headlights, and a mid-back seat.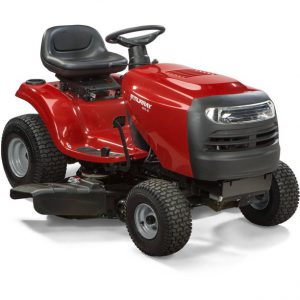 Murray lawn mower model 960440009 is an alternative choice for demanding yard jobs. It is a gas-powered mower featuring a 17.5HP engine manufactured by Briggs and Stratton coupled with a shift-on-the-go transmission from Murray. The mower has an ultra-durable cutting deck that allows you to choose from five different cutting heights. Its 18-inch turning radius and high-traction rear tires enhance its maneuverability. Individuals or professionals who cut grass on large yards will find the 960440009 Murray lawn mower model ideal for their requirements.