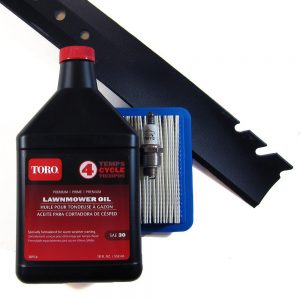 Toro manufactures high-quality walk-behind and riding lawn mowers that are built to last for years. The lawn mowers face wear and tear over time. Some parts of the lawn mowers deteriorate and require replacement. Homeowners can purchase Toro lawn mower parts for replacing the deteriorated components of their lawn mowers. These parts are available from Toro and sold through various channels. Here are a few commonly replaced Toro lawn mower parts.
Toro 131-4547-03 22″ Recycler Blade
The blades of the lawn mower determine the quality of its cut. Blades lose their edge over time due to friction generated by the grass. It decreases their efficiency and reduces their efficiency. The grass might get a torn appearance warranting replacement of blade with Toro lawn mower parts. Toro's 131-4547-03 22″ recycler blades will fit most Recycler walk-behind lawn mowers from the brand. These blades have a length of 21-11/16″, a width of 2-1/4", and a thickness of 0.15". They can be used to replaced blunt as well as broken blades.
Toro Recycler with Briggs & Stratton Engine Tune-Up Kit
If you have a Toro Recycler lawn mower with a Briggs & Stratton engine, then consider their engine tune-up kit. The kit comes will all Toro lawn mower parts for getting your lawn mower in top shape. It includes a 22" blade (131-4547-03), an air filter, a spark plug (Champion J19LM), and 18 fl. oz SAE30 lawn mower oil. It allows you to service your lawn mower and extend its life and performance. Toro tune-up kits are also available for their lawn mowers with engines from other brands.
Toro 117-1018 V-Belt
Lawn mowers come with a belt that connects their transmission pulleys to the engine. It transfers the power from the engine to the pulleys for propelling the lawn mower. Belts wear out with time and may become lose or even break down requiring their replacement. Toro lawn mower replacement parts include the 117-1018 V-belt with a width of 3/8″ and a length of 32-3/8″. It will fit a wide range of Recycler lawn mowers from the brand. It is easy to install, has a superior construction quality and is long lasting.
Toro 105-1845 Traction Control Cable
Owners of Toro lawn mowers with a front wheel drive system may find themselves in a situation wherein the traction cable of their lawnmowers may break. It happens because the cable experiences tension throughout its life and will eventually break down due to wear and tear. The 105-1845 traction control cable is an OEM replacement Toro lawn mower part for the front wheel drive lawn mowers. It will fit most Toro lawn mowers with front wheel drive and is easy to install.
Toro 107-3709 Wheel Gear Assembly
Lawn mower wheels and their gears can also get worn out with time. Worn out tires will decrease the traction of the lawn mowers which can cause them to slip. Gears that experience wear and tear will affect maneuverability of the lawn mower. Toro lawn mower parts range includes the 107-3709 wheel gear assembly that can replace broken and worn out wheels. It has 8" wheels that can be installed at front or rear of the lawn mower. The Toro 107-3709 assembly will fit a wide range of Toro lawn mowers.