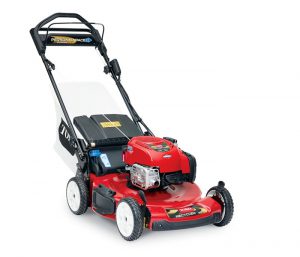 A lawn mower is an essential requirement for owning immaculate lawns. Homeowners across the USA own lawn mowers from different companies. Toro lawn mowers are quite popular among buyers across the nations. The company manufactures a wide range of lawn mowers that includes walk-behind mowers, riding mowers, and zero-turn mowers. Toro mowers are known for their reliability and durability. However, the mowers experience wear and tear like all the other machines. Their components may deteriorate over time and require replacement. Toro mower parts are available from the brand itself. They can restore a lawn mower to its prime condition. Not replacing a malfunctioning part will drastically shorten the life of the mower and may even cause permanent damage. Here are a few popularly replaced Toro mower parts.
Toro 59312 22″ Recycler Bag and Frame
Toro walk behind mowers come with a recycler bag that is used to collect grass clippings. The bag eliminates the need to clean the lawn after mowing and keeps it neat and tidy. The original bag of Toro lawn mowers may wear over time or get chewed by rodents. It is also possible that the bag might get torn apart accidentally. The 59312 recycler bag is a Toro mower part that can be used to replace the original bag. It comes with a frame assembly, eliminating the need to purchase it separately. The bag can replace Toro mower parts on 20332, 20333, 20334, 20338, 20955, 20956 and 20958. It is an OEM item and has a great construction quality.
Toro 115-4695 PK2 8″ Wheel Gear Assembly
Wheels are another frequently replaced Toro mower parts. Mowers wheels wear out with time and lose their treads. It reduces the traction of the wheels and causes the mower to slip. Their gear assembly may also wear out. Worn out wheels lower the performance of the mower. The Toro 115-4695 PK2 8″ wheel gear assembly is a replacement part for the rear wheel drive mowers in Toro's Recycler Series. They will fit 20332, 20332C, 20333, 20333C, 20334, 20334C, 20338, 20352, 20372, 20373, 20374, 20955, 20956, and 20958 models. It is an OEM item and comes in a pack of two.
Toro 108-3762-03 Super Recycler 21 Inch Blade
The cutting quality of a lawn mower depends on the condition of its blades. Lawn mower blades experience friction and get blunt over time. They are not able to mow grass as efficiently. The blades might also break if they repeatedly come in contact with hard objects like stones. The list of Toro mower parts available for replacement also includes blades. Their Toro 108-3762-03 blades will fit the super recycler 21 lawn mowers from the brand. The cutting blade is 21" long and is the ideal substitute for the 93-4106-03 and 93-4106 parts found in Toro lawnmowers. It is an OEM item and is of superior quality.
Toro 115-8447 Side Discharge Chute
The side discharge chute is another item that is high on the replacement list of Toro mower parts. Even though a chute might not seem like an important part, it directs the discharged grass away from the user and prevents their clothes from getting soiled. It may get damaged when it repeatedly crashes against hard surfaces and will need to be replaced. The 115-8447 side discharge chute is a replacement Toro mower part that will fit most walk-behind mowers from the brand. It is a genuine part manufactured by an original equipment manufacturer.
Toro Lawn mower 104-8676 Cable-Brake
Lawn mowers use a cable to connect the lever or pedal to the braking mechanism. The cable is under tension when brakes are applied and may experience wear and tear over time. A worn out cable will break eventually. The user will not be able to apply brakes for stopping the mower. The 104-8676 cable is a Toro mower part that will replace the brake cables of most lawnmowers from the brand.