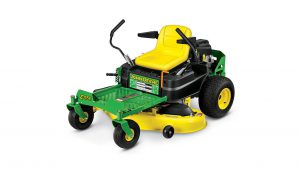 A zero turn lawn mower is a great option for homeowners who want extra precision while mowing. These mowers have a turning radius of zero degrees which allows them to mow around narrow beds and paths effortlessly. Zero turn lawn mower reviews can help homeowners choose the right mower model for themselves. These reviews highlight the pros and cons of the products and can help the owners to find a product that matches their requirements. Here are a few models that have great zero turn lawn mower reviews.
Ariens Zoom 34 Zero Turn Lawn Mower
Homeowners looking for a compact lawnmower with premium features can consider the Ariens Zoom 34 zero turn lawn mower. The mower has a 34" stamped cutting deck made of 12-gauge steel allowing it to cut the thickest grass easily. The deck coupled with a 19hp Kohler 6000 Series V-Twin engine merits this mower some of the best zero turn lawn mower reviews. There are seven cutting height positions that allow homeowners to choose a cutting height from 1.5" to 4.5". Standard features on the mower include a mid-back seat with springs and 11" front and 18" rear wheels. Aries Zoom 34 comes with a 3-year limited consumer warranty with a 5-year limited warranty on the deck and the frame of the mower.
Husqvarna Z254 Z-Turn Mower (967844601)
The Husqvarna Z254 is another premium model that has some of the best zero turn lawn mower reviews. The mower has a Kohler 7000 Series 747cc V-Twin engine that can output 26hp of power. Its 54" reinforced stamped 12-gauge steel deck can mow the toughest grass easily and cover large lawns. It supports mulching, bagging and side discharge operations and allows you to set the cutting height from 1.5" to 4" giving you complete control over your lawn's appearance. Standard features like 15" high vinyl seat, armrests, and the hydrostatic EZT transmission add to the convenience factor. Husqvarna provides a 3-year limited warranty on the Z254 zero turn mower.
Toro TimeCutter SS4200 (74711)
Looking for a mid-size mower variant that has excellent zero turn lawn mower reviews? The Toro TimeCutter SS4200 might be a great option for you. Its 42" cutting deck is made from 13-gauge steel and has two blades that yield superior quality of cut. A powerful 452cc Toro engine propels the mower while the dual lever steering and hydrostatic transmission make it easy to use. The Smart Speed control system provides three different speed ranges for mowing, trimming and towing activities. A deck washout port and an 18" tall seat are standard features. Toro TimeCutter SS4200 comes with a 3-year unlimited hours warranty.
Troy-Bilt Mustang 54 Zero Turn Mower
If you want to purchase a model that has rave zero turn lawn mower reviews, then consider the Troy-Bilt Mustang 54 zero turn mower. It has a 54" cutting deck with three blades that will mow large lawns in a time-saving manner. An eight-position height adjustment system enables you to set the cutting height. The deck has side discharge capability and comes with an integrated wash port for easy cleaning.  A powerful 724cc Briggs & Stratton Intek series Twin-Cylinder engine propels the mower. It has an 18" high back seat that provides extras comfort and minimizes fatigue. Troy-Bilt Mustang 54 comes with a 3-year limited warranty with a lifetime warranty on the frame.
John Deere Z355E Zero Turn Riding Mower
John Deere Z355E is an excellent recommendation when it comes to zero turn lawn mower reviews. The 48" Accel Deep cutting deck of the mower will make easy work of mowing large lawns. It is made of 10-gauge steel and supports side discharge function while a mulching kit is available optionally. Homeowners can choose a cutting height from 1" to 4" as desired. Its deck is propelled by a powerful 22hp M44 Intek V-Twin engine with a displacement capacity of 724cc. A 15" seat with armrests minimizes fatigue while an hour meter makes it easier to maintain. John Deere Z355E comes with a bumper-to-bumper warranty with a time limit of 2-years or 120-hours.