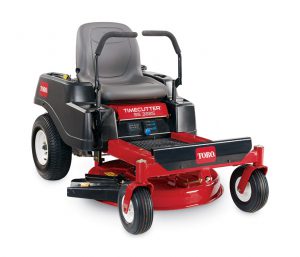 The Zero Turn Riding or ZTR mowers are a great option for homeowners who want a mower with excellent maneuverability and mowing precision. These mowers are specially designed to have a zero turning radius which allows them to mow lawns with pinpoint accuracy. They can be used for mowing around obstacles like fences and trees, flowerbeds, and curved paths. ZTR mowers are manufactured by different companies. They have different cutting widths and varying features. Some of the popular ZTR mowers available from different manufacturers are covered in this article.
Troy-Bilt Mustang 46 ZTR Mower
The Troy-Bilt Mustang 46 ZTR mower is a great option for homeowners who want the maneuverability of a zero turn mower. It comes with a 24hp Briggs & Stratton V-Twin Intek Series engine that delivers powerful performance. Its 46" cutting deck has two blades with the electric PTO (Power Take-Off) engagement system that makes it easy to operate. The deck has side discharge capability as standard while bagger and mulch kits are available optionally. Homeowners can choose from eight different cutting height adjustment positions and give their lawn the desired appearance. Troy-Bilt Mustang 46 ZTR mower has a 3-year limited warranty with a lifetime warranty on its frame.
Poulan Pro PPX46Z ZTR Mower
Homeowners who are looking for an affordable ZTR mower can consider buying the Poulan Pro PPX46Z mower. It has a 46" Steelguard reinforced steel cutting deck that will cut the thickest varieties of grass in a time-saving manner. Users can select between collect, mulch, and side discharge cutting methods as per their preferences. There are six height adjustment positions provided that range from 1.5" to 4". A reliable 22hp Briggs & Stratton Professional Series V-Twin engine powers the mower. The mower is easy-to-operate thanks to its zero turning radius, dual lever steering, and hydrostatic transmission.
Toro TimeCutter SS3225 (74710) ZTR Mower
The Toro TimeCutter SS3225 is a compact ZTR mower suitable for lawns with narrow paths and tight spaces. It has a 13-gauge steel cutting deck with a width of 32" and side discharge capability. Its functionality may be extended with mulching and bagging kits. You can set the cutting height from 1.5" to 4.5" depending on your preferences. Its small size, lever steering, dual hydrostatic transmission and zero turning radius improve its maneuverability. A 452cc Toro single-cylinder engine resides at the rear of the mower. It features the Smart Speed control that allows users to change the speed range depending on whether they are going to trim, tow or mow. Additional features include a deck washout port for easy cleaning, an hour meter, and a comfort-enhancing 18" extra-tall seat. Toro TimeCutter SS3225 comes with a 3-year unlimited hours warranty.
Husqvarna MZ61 Zero Turn Mower
If you are searching for a premium ZTR mower then take a look at the Husqvarna MZ61 zero turn mower. It has a large 61" fabricated 11-gauge steel deck with three blades designed for heavy-duty usage. There are twelve adjustment steps that allow you to choose a cutting height from 1.5" to 4.5". The mower comes with a 27hp Briggs & Stratton Endurance Series V-Twin engine that enables it to mow up to 4.2 acres in an hour. Its hydrostatic transmission, dual lever steering, and zero turning radius make it easy to operate. Husqvarna provides a 4-year/400-hour warranty on its MZ61 mower.
John Deere Z345R ZTR Mower
John Deere's Z345R zero turn riding mower is a reliable option when it comes to ZTR mowers. It has a 42" Accel Deep deck constructed out of 12-gauge steel with side discharge capability. You can purchase a mulching kit or a bagger separately for additional cutting options. The deck allows you to choose a cutting height from 1" to 4" in increments of 0.25". The mower comes with a 22hp M44 Intek V-Twin OHV engine with a displacement capacity of 724cc. It is easy to operate thanks to the twin lever premium steering and dual Hydro-Gear EZT transmission. John Deere Z345R comes with a 2-year/120-hour bumper-to-bumper warranty.