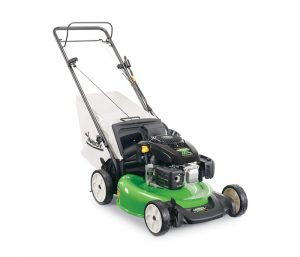 A lawn mower is a necessity for homeowners who love to maintain their lawns themselves. There is a large variety of mowers available from different brands. Choosing the right mower can be a tricky decision for homeowners. Lawn mower reviews can help homeowners with their buying decisions. These reviews are posted by other buyers who have used the lawn mowers and are well-versed with their features and drawbacks. Here are a few models with great lawn mower reviews.
Honda HRR216VKA Lawn Mower
The Honda HRR216VKA is a popular choice among homeowners and has some of the best lawn mower reviews. It comes with a durable and powerful GCV160 engine from Honda. The mower has the Smart Drive system that makes mowing effortless. There are five different speed settings ranging from 0 to 4mph. It has a 21" steel cutting deck that supports mulch, bag, and rear discharge operations. The deck has MicroCut twin blades with four cutting surfaces that yield an excellent quality of cut. Homeowners can use the 6-position adjustment system to choose a cutting height from 1.125" to 4" and give their lawn the desired appearance. Honda HRR216VKA lawn mower comes with a 3-year residential and a 90-day commercial warranty.
Greenworks 25022 Corded Lawn Mower
Homeowners who are looking for a corded mower with outstanding lawn mower reviews can consider the 25022 model from Greenworks. It has a powerful 12Amp motor that runs directly off the mains. Its 20" steel cutting deck is durable and will mow lawns quickly. The deck has 3-in-1 capability and supports mulching, rear bagging, and side discharge cutting methods. It has seven different height adjustment positions that allow homeowners to set the cutting height from 1.5" to 3.75" depending on their desired preferences. The mower comes with wide 10" rear wheels that improve its maneuverability on uneven terrains. Greenworks provides a 4-year warranty on the 25022 corded lawn mower.
EGO Power+ LM2000 Cordless Lawn Mower
If you want to mow your lawns in an eco-friendly fashion and are searching for a model with excellent lawn mower reviews, then consider the EGO Power+ LM2000. The mower comes with a 600W magnetic motor that has performance equivalent to gas engines. A 56V 4Ah rechargeable Lithium battery powers the mower and yields a runtime of forty-five minutes on a single charge. Its 20" cutting deck will make quick work of mowing lawns. You can choose between mulching, rear bagging, and side discharge functions. Its LED headlights, weather resistant construction, and low noise allow you to mow at any time. Ego Power+ LM2000 mower has a 5-year limited warranty with a 3-year limited warranty on the battery and the charger.
Lawn-Boy 17734 Self Propelled Lawn Mower
Need a lawn mower that can make lawn maintenance effortless and has great lawn mower reviews? Then consider the 17734 variant from Lawn-Boy. It is a self-propelled mower with a rear-wheel drive. A 149cc Kohler XTX OHV engine propels its deck and powers its drive system. Its 21" steel deck has the Tri-Cut system that can be used for bagging, mulching, and side discharge operations. You can set the cutting height from 1.25" to 3.75" by using the 2-point adjustment system. Standard features include an electric start, an adjustable handle and 7" front and 8" rear wheels. Lawn-Boy 17734 mower comes with a 2-year complete coverage warranty.
Husqvarna HU800AWDH Mower 961450021
Husqvarna HU800AWDH is a premium offering from the brand that has superb lawn mower reviews. It comes with a powerful and reliable Honda GCV190 4-cycle engine with a displacement capacity of 190cc. Its All-Wheel Drive (AWD) system provides excellent traction on slopes, wet grass, and rugged terrains. The 12" rear wheels further enhance its maneuverability. The mower has a 22" steel cutting deck that reduces the time and effort required for mowing lawns. Its deck supports mulching, bagging, and side discharge operations and allows you to set the cutting height from 0.593" to 3.092". Additional features include a foldable handle with three adjustment positions, deck wash port, and dual-trigger drive control.