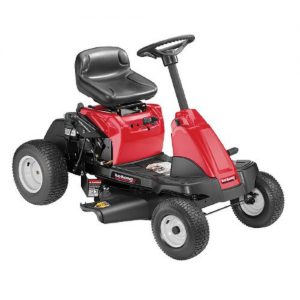 Homeowners who have lawns spread over several acres need a riding mower to tend to their lawns in an efficient and time-saving manner. A big limitation that homeowners might face while choosing a riding lawn mower is parking space. Some buyers might also prefer compact lawn mowers especially if their lawns cover an acre at maximum. 24 Inch riding lawn mowers are the perfect choice for these scenarios. These lawn mowers have a compact 24" cutting deck which is larger than walk-behind mowers but not too large to create space issues in garages. They will even go through small gates and on narrow paths. If you are looking for a 24 inch riding lawn mower, then consider one of the following models available from different brands.
**Update 4/6/2021 – Based on feedback from our readers it appears that 24″ deck riding mowers are difficult to find in stock. I have added a couple of 30″ riding lawnmowers that are in stock as of today. Otherwise feel free to keep checking in with us and we will add in stock 24″ models as they become available.**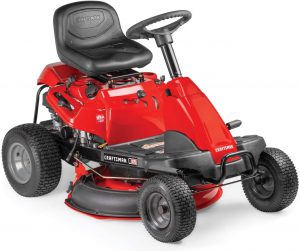 The Craftsman R105 Gas Powered Riding Lawn Mower has approximately a 12 hp enginer, and 30″ cutting deck. The R105 lawn tractor has the mowing power for larger yard jobs. Driver can rest on the mid-back seat and choose from 6 different speed options for a smooth ride that suits their needs. The unit is equipped with a 30-Inch cutting deck for trimming and clipping grass in one quick sweep. The included deck wash saves time for easier underside cleaning. This compact mower can be used with mulching, bagging, and hauling attachments as well. Backed by a 2-year limited warranty.
Reviewers love this model because it can easily fit through a 36″ gate, it can fit into a shed easier than bigger models, it is easy to assemble, you can find bagger accessories for it at sears.com or at Lowe's, and it is very dependable.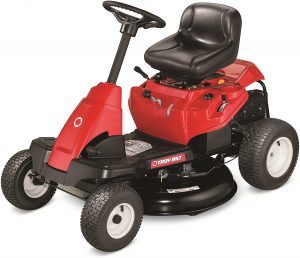 The Troy-Bilt Neighborhood Rider is powered by a 382cc engine. with top forward speeds of 4.25 MPH and a 6-speed transmission. The 30-Inch cutting deck couples the benefits of a standard riding lawn mower with the size of a wide cut walk behind mower. Easily stored in a garage or shed, this neighborhood mower is ideal for standard land owners with a medium sized landscape and relatively even terrain. The powerful 382cc Powemore OHV engine is built to last and provide clean performance. Fuel tank capacity includes a 1.3 gallon tank with a fuel sight window, which allows you to check gas levels. This riding mower features a 5 height adjustable blade with manual power take-off for easy and fast blade engagement. For added comfort, the seat raises to mid-back and the steering wheel is a 13-inch soft grip weel and the steering column can be adjusted to the preferred height. Troy-Bilt offers a 2-year limited warranty with extensive coverage to give you the durability you should expect.
Recent reviewers on this particular model mention that the engine (approximately 12 horsepower) has plenty of power to get up a 15 degree hill (with someone as large as 6′-2″ and 225 pounds) while cutting the grass to look like it is on a golf course. This model comes highly recommended and gives different options to choose from for engines depending on what you are looking for.
The Murray 24 Inch riding lawn mower is a great option available for homeowners who want a compact lawn mower. It comes with a Briggs & Stratton Professional Series engine that has a displacement capacity of 190cc and a power output of 8hp. The engine has a simple on-off switch that makes it easy to start. A six-speed transmission with the Shift-On-The-Go technology allows the rider to set the speed without having to stop. Its 24" steel cutting deck comes with two blades which provide superior quality of cut. A mulch kit is included for individuals who prefer to put the grass clippings back into the soil. Users can choose from the five height settings for giving their lawns the desired appearance. The mower has a tight turning radius of 18" which provides superior maneuvering capability in lawns with obstacles, poles, and narrow paths. A comfortable seat minimizes fatigues and allows users to mow their lawns at a stretch. Murray provides a 2-year limited warranty on its 24-inch riding lawn mower.
Yard Machines 190cc 24 Inch Riding Lawn Mower 13A326JC700
The Yard Machines 190cc 24 Inch riding mower is another option for homeowners who need a compact lawn mower. Yard Machines is a brand owned by the MTD company which has been producing lawn mowers since 1958. The mower has a 190cc Briggs & Stratton OHV (Over Head Valve) engine that provides adequate power for mowing lawns up to an acre. It is also equally fuel efficient and does not produce a lot of noise. It has a cutting deck with a single blade which provides an excellent quality of cut. The 24" cutting width of the deck allows homeowners to mow narrow and hard to reach spaces easily. It makes the mower ideal for areas where bigger mowers won't be able to enter. Users can purchase an optional bagger or mulch kit for extending the functionalities of the mower. The six-speed transmission makes it easy to use the mower while the 18" turning radius makes it a breeze to navigate obstacles and narrow paths. Yard Machines 13A326JC700 riding mower comes with a 2-year limited warranty.
Craftsman R140 10.5-HP Hydrostatic 30-in Riding Lawn Mower CMXGRAM1130040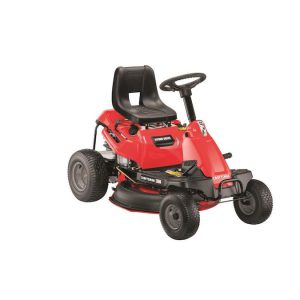 Craftsman R140 Riding Lawn Mower is an excellent alternative for individuals who find 24-inch riding lawn mowers slightly small. This model comes with a 30-inch cutting deck made from reinforced stamped steel. It has a 10.5HP Briggs and Stratton engine under the hood along with a foot pedal hydrostatic transmission. A mulching kit is included with the mower for returning the grass clippings back to the soil. The mid-back seat and soft-touch steering enhance the rider's comfort while the LED light facilitates night-time mowing. It will suit buyers who are looking for riding lawn mowers with 24 to 30-inch cutting decks.
RYOBI 30-inch 50 Ah Battery Electric Riding Lawn Mower RY48130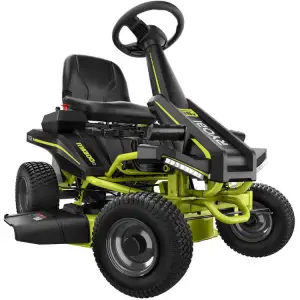 RYOBI RY48130 Electric Riding Lawn Mower is a battery-powered option for buyers. At 30-inch, it is slightly larger than 24-inch riding lawnmowers but still compact enough for tight spaces. You can drive the mower through 42-inch wide fence gates. It features three brushless motors that are powered by a 50Ah battery. A single charge provides a runtime of up to one hour and allows you to mow an area of one acre. The 30-inch cutting deck is equipped with two steel blades. It supports seven height adjustments for a cutting height range of 1.5 to 4.5 inch. RYOBI RY48130 Electric Riding Lawn Mower charges through a 120-Volt outlet. Individuals who want a quiet lawn mowing machine will find it suitable.
CubCadet 30 in. 56-Volt MAX 30 Ah Battery Lithium-Ion Electric Drive Cordless Riding Lawn Mower CC30E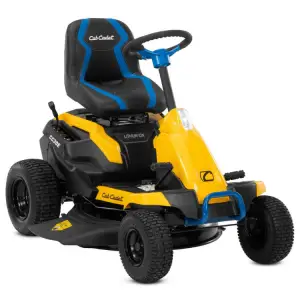 CubCadet CC30E Cordless Riding Lawn Mower is an alternative electric offering. With a 30-inch single-blade cutting deck, it is not exactly a 24-inch riding lawn mower but will still fit through small spaces (36-inch gates). The turn radius is also small at 18-inches. Its 56V, 30Ah battery supports rapid recharge technology and takes four hours to charge fully, allowing you to mow up to one acre. There is no power fade and you can expect maximum performance from start to finish. You can plug the mower into a standard 110V outlet for charging. CubCadet CC30E Cordless Riding Lawn Mower comes with push-button cruise control and a 15-inch, high-back seat. A pair of USB charging ports are provided for your gadgets.
Yard Machines 24-inch Riding Lawn Mower Rear Engine 13AA26JC500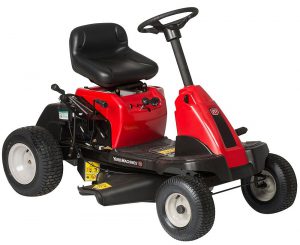 Yard Machines 13AA26JC500 Rear Engine Lawn Tractor is an alternative option from the company. It has a 24-inch cutting deck but comes with a 196cc PowerMore engine instead of the Briggs and Stratton one. The riding mower has an assembled width of 33-inches and will go through narrow gates easily. Its 18-inch turning radius makes it suitable for tight spaces. Yard Machines 13AA26JC500 Rear Engine Lawn Tractor features a 6-speed shift-on-the-go transmission. A single-lever system facilitates easy height adjustment. The mower is suitable for buyers searching for 24-inch riding lawn mowers.
CRAFTSMAN E150 30-in Lithium-Ion Electric Riding Lawn Mower CMXGRAM1130049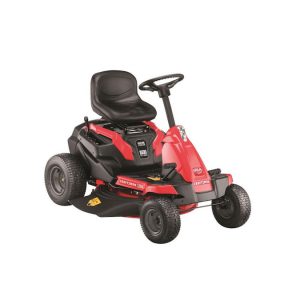 Craftsman E150 Electric Riding Lawn Mower is yet another option that runs on a lithium-ion battery. It has a 30" reinforced steel stamp deck that draws power from a 56V, 1500 watt-hour battery. The mower features a foot-controlled electric drive along with a 30-inch steel deck. You can drive through small gates and tight spaces thanks to its 18-inch turn radius. It will easily cut up to one acre on a single charge. Craftsman's E150 Electric Riding Lawn Mower comes with a LED headlight, mid-back seat, and telescopic steering wheel. An optional mulching kit is also available for the mower.