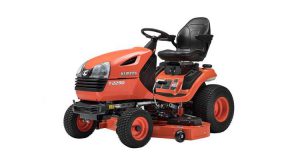 Every homeowner wishes to own an immaculate lawn that enhances the appearance of their property. They can fulfill their wishes by investing in a quality lawn mower. A Kubota lawn mower is a great option for homeowners. They are known for their excellent cutting quality, ease of use and durability. The brand manufactures multiple lineups of mowers that cater to the needs of different customers. Here are a few Kubota lawn mowers that will suit homeowners with varying requirements.
Kubota 21 Inch Walk-Behind Mower (WG6-21)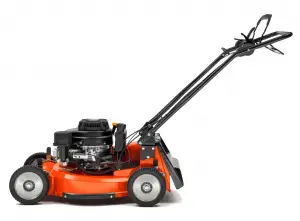 The Kubota Walk-Behind Mower (WG6-21) is an excellent option for individuals who want Kubota lawn mowers for heavy-duty or commercial purposes. It has a 21-inch cutting deck and will be adequate for mowing small yards. The Kawasaki FJ180 179cc engine of the self-propelled machine is robust and enables you to move from one job to another without any issues. It outputs 5.5HP of power and is paired with a 3-speed gear drive having a maximum speed of 4.1 MPH. Kubota WG6-21 Walk-Behind Mower comes with 9×21/4 front and rear wheels and is suitable for flat terrains. You can choose between rear discharge and mulching functions. It is covered by a 2-year warranty with a 3-year warranty on the engine provided by Kawasaki.
Kubota 36 Inch Walk-Behind Mower (WG14-360)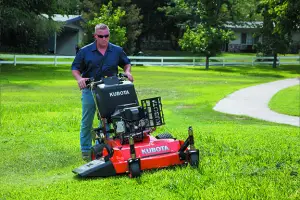 The Kubota 36 Inch Walk-Behind Mower (WG14-36) is a suitable choice for scenarios where you need a powerful mower but using a ride-on model is not feasible. This Kubota lawn mower is designed for demanding jobs. It features a Kawasaki FS481V engine that outputs 14.5 HP of raw power. The self-propelled mower comes with a 5-speed Peerless gearbox and supports a maximum speed of 5.1 MPH. The WG14-36 Kubota lawn mower has a 36-inch fabricated cutting deck with a cutting height range of 1.5 to 4.5 inches. Its puncture-proof 9×3.50-4 front tyres and 13×5-6 4-ply rear tyres ensure superior maneuverability. The 5-gallon fuel tank facilitates a run time of up to 5 hours. Kubota WG14-36 Walk-Behind Mower costs almost four thousand dollars and is suitable for mowing up to 3 acres.
Kubota 52 Inch Walk-Behind Mower (WHF19-52)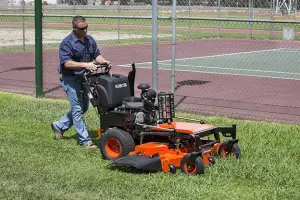 Kubota's 52 Inch Walk Behind Mower (WHF19-52) is the ultimate product for professionals who need a self-propelled, walk-behind mower for commercial purposes. A beastly 19HP Kawasaki FX600V engine powers the machine. It is complemented by a 2-hydro-gear 10cc transmission featuring variable displacement pumps with oil cooler and Parker Wheel motors. WHF19-52 Kubota riding lawn mower is self-propelled and has a top speed of 6.7MPH. Its 10 ga deck with 10ga top and 7ga skirts is 52-inch wide and allows the height of cut to be adjusted from 1.5 to 5 inches. It will enable landscaping experts to undertake large jobs while minimizing fatigue. The 11×4.00-5 front and 18×7.50-8 4-ply rear tyres of the mower make it suitable for different terrains. For easy operability, it comes with dual-lever hydro control and hydrostatic dynamic braking. Kubota WHF19-52 Walk-Behind Mower costs around $7,000 and can run for up to five hours on a full tank.
Kubota 42 Inch Lawn & Garden Tractor Riding Mower (T2290KW-42)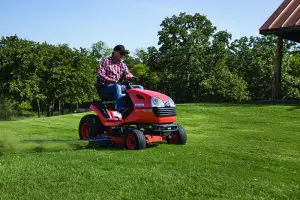 Kubota's 42 Inch Lawn & Garden Tractor (T2290KW-42) is designed for residential and commercial properties spanning a couple of acres. It has Kawasaki's 726cc GH739V-3 2-cylinder engine under its hood that outputs 21.5HP and is designed for dependability. The mower has a 42-inch cutting deck with two blades and side discharge capability. Operators can adjust the cutting height from 1 to 4 inches in ¼-inch increments. Its maximum top speed of 5.7MPH coupled with cruise control improves mowing efficiency. Kubota lawn mower model T2290KW-42 has various convenience and utility features like a deluxe high-back seat with suspension and armrests, electric start, and LED headlights. A cheaper variant with a Briggs & Stratton engine is also available.
Kubota 48 Inch Zero-Turn Mower (Z231BR-48)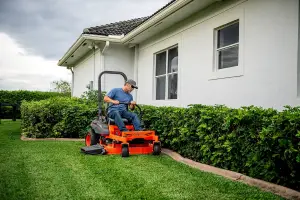 Buyers of Kubota lawn mowers looking for a zero-turn option can consider the Z231BR-48 model from the company. It is a powerful mowing machine that has a 48-inch deep-welded 10-gauge steel cutting deck with three blades. A 724cc Briggs and Stratton gasoline engine with a 22HP rating drives the machine and propels its blades. Its mechanical K-Lift pedal enables easy adjustment of cutting height in ¼-inch increments from 1.5 to 4.5inches. The 11×4-5 pneumatic front tires and 22×10 – 14 rear tires ensure a comfortable ride while protecting the lawn. Kubota lawn mower model Z231BR-48 has a top speed of 8MPH and can mow large lawns quickly.
Kubota T2080A2 Riding Lawn Mower
The T2080A2 is a feature-packed model in the T80 Series of Kubota lawn mowers. It comes with a 725cc GH737V two-cylinder OHV engine with 20hp power output. The mower has Kubota's 42" Infinity deck with two blades enabling it to mow large lawns in a time-saving manner. It is a counter-rotating deck that allows homeowners to switch between side discharge, mulching and bagging modes without the need to change blades. A dial empowers the operator to change the cutting height from 1" to 4" as required. Its dual-shock suspension system, pedal-controlled hydrostatic transmission, cruise control, high back seat, and large 22" rear tires make the riding experience simple and comfortable. Features like an electric start, hour meter, disc brakes, and headlights further enhance its value.
Kubota T2290KW-42 Riding Lawn Mower
The T2290KW-42 is a durable and versatile model in the Kubota lawn mower T90 Series. The mower has a reliable 726cc GH739V-3 two-cylinder engine with 21.5hp output power. It comes with a 42" fabricated steel mower deck with two blades and side discharge capability. Attachments like grass catcher and snow blower can be purchased to extend deck capabilities. The mower has a tight 14" turning radius and a Hydro-Gear T3HD transmission that allow exceptional control and maneuverability for mowing. Its simple height adjustment system enables you to set the cutting height from 1" to 4". Standard features on the Kubota T2290KW-42 include an hour meter, deluxe high-back seat with armrests and suspension, LED headlights, and disc brakes.
Kubota GR2120-2 Riding Lawn Mower
If you are looking for a top of the line Kubota lawn mower for residential use, then consider their GR2120-2 riding mower. It comes with Glide Steer technology that provides tight turning radius while minimizing turf damage. A 778cc D782 three-cylinder water-cooled diesel engine resides under the hood of the mower and provides 21hp of power. Its 10-gauge steel deck has 48" cutting width and three blades for maximum performance. It has side discharge capability by default and supports a cutting height from 1" to 4". Homeowners can separately purchase accessories like grass catcher and snow blower. The all-wheel traction system improves the maneuverability and control of the mower on rugged terrains. Standard features include hydrostatic transmission and power steering, cruise control, fuel gauge, hour meter, adjustable seat, and hydraulic disc brakes.
Kubota Z125SKH-54 Zero Turn Mower
Do you need the precision and maneuverability of a zero turn mower? Then consider the Kubota lawn mower Z125SKH-54 model from their Z100 lineup. It is a mid-range residential mower with features similar to commercial mowers. It comes with a 747cc air-cooled V-Twin engine with a maximum power output of 25hp. The mower has a large pro-commercial fabricated 10-gauge steel cutting deck with three blades and a width of 54". It supports cutting height from 1.5" to 4.5". The two-hand lever steering and zero turning radius allow precise control for operating the mower in tight spaces with obstacles. There are various attachments available for the buyers that include a grass catcher and mulching kit among others. LED headlights, adjustable high-back seat and hour meter are standard features.