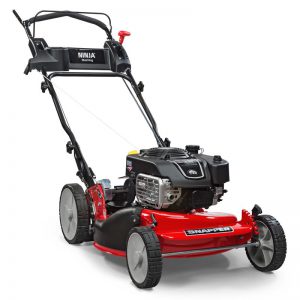 Snapper is a well-known manufacturer of lawn mowers in the USA. The company has been manufacturing lawnmowers since 1951. Their range of lawn mowers includes walk-behind mowers, battery-powered mowers, riding mowers and zero turn mowers. Snappers lawn mowers are durable and long-lasting. However, like all other lawn mowers, they wear and tear with use. Snapper lawn mower parts may deteriorate with age or might start underperforming.
It lowers the cutting precision of the mower and reduces its efficiency. The worn out components must be replaced with new Snapper lawn mower parts. These are available from the original equipment manufacturers as well as generic manufacturers. Here are a few Snapper lawn mower parts that can help to restore your lawn mower to its original glory.
Snapper 2049 21″ Push Mower Ninja Blade
The deck blades are one of the commonly replaced Snapper lawn mower parts. When blades cut the grass, they experience friction. The cutting edge of the blades becomes blunter after repetitive usage. It lowers the cutting precision of the blade resulting in untidy grass tips. The blades may also rust over time or might break when they come in contact with objects like stones repeatedly. These blades must be replaced for restoring the cutting prowess of the mower. The Snapper 2049 21″ ninja blades are replacement parts for walk-behind mowers from the brand. These blades have six cutting surfaces that are specially designed to provide superior mulching quality. They replace Snapper parts with serial numbers 7026407, 7026407BZAYP, and 7026407BZ. The blades are manufactured by the original equipment manufacturer and are quite durable.
Snapper XD BSB4AH82 82V 4.0Ah Lithium Ion Battery 1760265
Snapper manufactures a wide range of battery powered tools as well as lawn mowers. They use rechargeable Li-Ion batteries and are eco-friendly. The batteries deteriorate with age and the amount of runtime they provide also decreases. Homeowners may not be able to mow their lawns completely when using aged batteries in their Snapper lawn mowers. The Snapper XD BSB4AH82 Li-Ion battery is a Snapper lawn mower part for its XD 82V mower lineup. The battery has a capacity of 4Ah and provides a runtime of up to 60 minutes for the mower. It is a genuine part supplied by the original equipment manufacturer and is built to last.
Snapper 7034604YP Clutch Control 21
Clutch control cable is another Snapper lawn mower part that might require replacement after a few years. Self-propelled lawn mowers have a throttle control that allows users to control the drive system of the lawnmower. The throttle control is attached to the clutch via a cable. The cable is under tension when the lawnmower is in use. It will experience wear and tear and may break. It will have to be replaced to restore the lawnmower to working condition. The Snapper 7034604YP clutch control cable is a replacement for 21" self-propelled lawn mowers from the brand. It is a genuine part and is built to last.
Snapper Wheel Assembly for Walk Behind Mowers 7501078YP
Homeowners may find that the wheels of their lawnmowers have deteriorated or are broken after a few years. It happens as the wheels experience friction when the mower is being used. The tires may lose their treads which might lower their traction. It will cause the mower to frequently slip while it is mowing. It may adversely affect the lawn mowing experience of the user. The 7501078YP wheel assembly is a Snapper lawn mower part that will fit most walk-behind mowers from the brand. The kit has a pair of 10" wheels making it ideal for homeowners who want to replace two wheels of their lawnmowers. It is an OEM part and will easily last for several years.