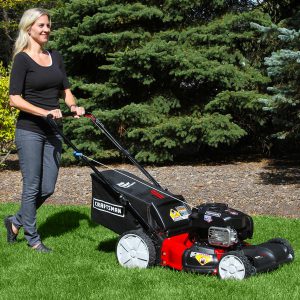 Craftsman manufactures a wide range of lawn mowers that allow homeowners to maintain their yards in prime condition. Craftsman lawn mowers are available in push-type, self-propelled, riding and zero turn variants. Each of these mowers comes with different features for varying user's requirements. A wide range of deck lengths are available, and a buyer can opt for one of these depending on their lawn size. Here a few popular models and lineups of Craftsman lawn mowers. 
Craftsman 37744 21″
If you are looking for a self-propelled and easy to maintain Craftsman lawn mower, then their 37744 21" model will suit your needs. It is a front-wheel drive mower powered by a Briggs & Stratton 163cc engine that provides excellent mowing performance. Craftsman's Just Check & Add technology ensures that you never have to drain the engine oil thereby reducing maintenance hassles. The mower has mulching, side discharge, and bag clipping capabilities. Users can choose from six different height positions using the dual levers. It comes with push button for easy starting and a push lever for controlling the speed. The self-propelled lawn mower has a 2-year warranty. A 37705 self-propelled model is also available with almost similar features.
Craftsman 37420 21″
The 37420 is a push-type Craftsman lawn mower that makes it easier to maintain your lawns. It has the Briggs & Stratton 140cc engine that provides adequate power for mowing. A Smooth Start recoil and MRS spark plug make it a breeze to start the lawn mower. The 21" cutting deck with the Precision Plus system provides excellent bagging, mulching, and side discharge capabilities. The users can choose from five different cutting positions ranging from 1.25" to 3.5". High 11" rear wheels allow the mower to navigate rough and uneven terrain easily. Craftsman provides a 2-year warranty on this lawn mower. A push-type 37451 model is also available with a more powerful 163cc engine.
Craftsman Pro Series
The Pro Series of Craftsman lawn mowers comes packed with features and can mow large lawns in no time. These riding mowers are available with 42", 46" and 54" cutting decks and may be powered by V-Twin Kohler engines with outputs up to 26hp. There are twelve different cutting positions that the user can choose from. All models come with the Consistent Cut technology that provides perfect cut even on uneven terrains. Standard features include cruise control, well-cushioned seat, and a foot-operated transmission. The Smart Lawn app provides service reminders and caring tips for the lawn mowers.
Craftsman 20410 50" Zero Turn Tractor
Need a Craftsman lawn mower that makes it easy to tend large yards? Their 20410 50" zero-turn riding lawn mower is the right fit for the job. Its 50" cutting deck is powered by a 725cc Kohler V-Twin engine with a 23hp output. There are eight different cutting heights to give your lawn the desired outlook. Its Consistent-Cut technology adjusts the cut automatically in uneven terrains. The zero-turn technology enables the rider to change directions easily. It comes with features like push-button start, cruise control, 18" seat, and dual hydro transmission. A Smart Lawn app makes it easy to maintain the lawn mower. Two more zero-turn riding variants are also available with 42" and 46" cutting decks. 
Craftsman TurnTight Mowers
The TurnTight lineup consists of easy to maneuver Craftsman lawn mowers. The variants in the lineup come with 42", 46" or 54" decks and may be powered by 19hp or 24hp engines. These lawn mowers have a turning radius of just 6" that makes it easy to navigate flowerbeds and fences. There are six different cutting positions on most models except the 54" model that has twelve cutting positions. All variants have mulch, side discharge, and rear baggage capabilities. Craftsman TurnTight lawn mowers come with a 2-year warranty on the mower and a 5-year warranty on frame and axle.