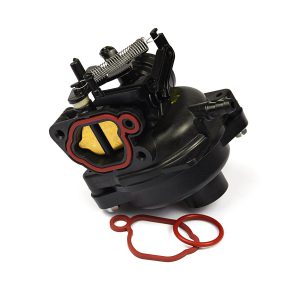 A lawn mower carburetor is one of its most important components. Lawnmowers come with internal combustion engines that work by igniting the fuel in the presence of oxygen. The engines use oxygen available in the air. A carburetor is a device that is used to accomplish the same. It is responsible for mixing air and fuel in a specific ratio for combustion. The carburetor delivers the correct amount of fuel as per the air intake. The amount of fuel required changes with increase or decrease in the lawn mower speed (its throttle). Maintaining the right ratio helps to improve the fuel efficiency of the mower while providing an adequate amount of power.
 When to Replace Lawn Mower Carburetors?
Lawn mower carburetors may develop issues over time. Their fuel delivery nozzles may get blocked and might not be able to supply an adequate amount of fuel. They might also develop cracks or leaks causing them to malfunction. An engine with a faulty carburetor might not start or cause issues. Replacement carburetors are available for lawn mower engines from different manufacturers. Here are a few lawn mower carburetors for popular engines from different brands.
Briggs & Stratton 799584 Carburetor
If your lawn mower has a vertical Briggs & Stratton single-cylinder engine, then the 799584 lawn mower carburetor is the replacement part for you. It is an OEM item that is meant for 09P000 (9 cubic inches) OHV engine models. The carburetor is factory tested for defects and designed for optimum performance.
Briggs & Stratton 798653 Carburetor
Riding lawn mowers from many brands come with Briggs & Stratton engines. The 798653 carburetor is a genuine replacement item that will fit most 12-cubic inch horizontal models in its Intek Series OHV single-cylinder engines. The 798653 Carburetor will replace 791077, 696981, 698860, 790182, 694508, 795069, 698859, 790180, 790290, 693865, and 697354 carburetor models from Briggs & Stratton.
Honda Carburetor 16100-Z0L-853 and Gasket Set
If you need a lawn mower carburetor for Honda GCV160 series engines, then consider their 16100-Z0L-853 carburetor. The part is built by the original equipment manufacturer (OEM) for Honda. It will fit most 160cc GCV series engines found in lawn mowers from Honda and other brands. The carburetor is compatible with the existing auto choke system of the lawnmowers.
Honda 16100-Z0Y-853 Carburetor Assembly with Gaskets
The Honda 16100-Z0Y-853 is a lawn mower carburetor that will fit Honda GCV190 engines. It is an OEM item with great build quality. It will fit the GCV190LA N5AF and the GCV190LA N5AP engine variants. The kit comes with the required gaskets eliminating the need to purchase them separately.
Kohler 14 853 49-S Carburetor With Gaskets
If you are looking for a genuine lawn mower carburetor for Kohler's XT6 and XT7 series engines with vacuum choke pull off, then the Kohler 14 853 49-S Carburetor is for you. It is an OEM part which means you don't have to worry about its quality or fitting. It replaces 14 853 36-S and 14 853 21-S carburetors and leases a new life to the engine.