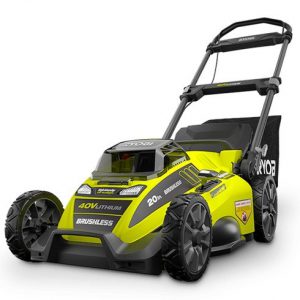 Ryobi is a lawn mower company famous for its electric and battery-powered lawnmowers. Its lineup includes walk-behind and riding mowers which run on electricity or batteries. They yield excellent quality of cut and are as powerful as their gas counterparts. While Ryobi lawn mowers do not have gas engines, they still have components that experience wear and tear over time like all other machinery.
Worn out parts can degrade the efficiency of the lawn mower and reduce its lifespan. Ryobi lawn mower parts are available that can replace the original parts on the lawn mowers. Timely replacement with these parts can ensure that the mower functions efficiently and lasts for many years to come. Here are a few popular Ryobi lawn mower parts that can help keep your mowers in tip-top condition.
 Ryobi 40-Volt Lithium-Ion 5Ah High Capacity Battery
Ryobi lawn mowers and outdoor tools make use of batteries instead of gas. The batteries deteriorate with age and the amount of runtime they provide slowly decreases. They have to be replaced after some years as they can't provide an adequate runtime for mowing lawns. The Ryobi 40-V Li-ion batteries are the perfect Ryobi lawn mower part for homeowners who want to replace their mower batteries. The batteries provide an extended runtime due to their high capacity ensuring that you have adequate power for even the most demanding job. These batteries can also be used in Ryobi 40V power tools.
Ryobi P122 4AH One+ High Capacity Lithium-Ion Batteries
Homeowners who have multiple outdoor tools from Ryobi besides an 18V One+ lawnmower can consider the Ryobi P122 4Ah One+ batteries. The battery can power over 70 Ryobi tools in its One+ lineup saving the owners from purchasing separate batteries for each tool. It has a capacity of 4Ah which is more than adequate for completing long duration jobs. An inbuilt indicator shows the amount of charge left and the battery can be charged in about 60 minutes. The battery does not lose charge when it is not in usage.
Ryobi 20" Lawn Mower Replacement Mulching Blade
Lawn mower blades are a commonly replaced Ryobi lawn mower parts. Lawn mower blades experience friction when they cut grass which reduces their sharpness. It affects the quality of the cut and results in frayed and torn grass edges. It also increases the amount of time needed to mow the lawn. Blades may also crack or break when they hit blunt objects while mowing. The Ryobi 20" lawn mower replacement mulching blade is the ideal Ryobi lawn mower part for the 40V lineup of mowers from the brand having a 20" cutting deck. It is a genuine part that comes from the Original Equipment Manufacturer (OEM).
Ryobi Replacement Motor Assembly #741921002
Ryobi lawn mowers use electric motors instead of gas engines for propelling the blades. Their motor may not have as many components as gas engines which reduces their rate of failure. However, as they are machines, they can still malfunction or their windings can burnout. The motor will no longer function and will have to be replaced. The 741921002 replacement motor assembly is the Ryobi lawn mower part that will fit quite a few 40V models from Ryobit. It can help in restoring non-working lawnmowers to optimum working condition.