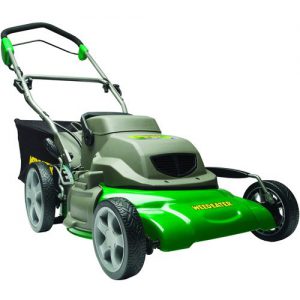 Weed Eater has been producing high-quality garden and outdoor tools for over four decades. Their equipment has been helping homeowners to landscape lawns and yards in an efficient and time-saving manner. Weed Eater lawn mowers are quite popular among homeowners across the USA. They are available in different sizes and come with varying features that will suit the needs of different types of buyers. Here are a few popular Weed Eater lawn mowers.
Weed Eater WE16R 16-Inch Push Reel Lawn Mower
Homeowners who like to mow their lawns the old-fashioned way can consider the WE16R Weed Eater lawn mower. It is a reel lawn mower that is propelled by the pushing action of the user. The mower has a 16" cutting width that allows you to mow your lawns quickly. The ball bearing spindle reduces the effort required for pushing the mower. Its rust-resistant steel blades provide a superior quality of cut and are long-lasting. A four-position height adjuster allows you to set the cutting height as required. The mower has a handle with comfortable foam grip and 9" front wheels that make it easy to use. It also reduces your expenses as it does not requires gas or oil changes and is easy to maintain.
Weed Eater 961340004 21-Inch Gas Powered Lawn Mower
The 961340004 is a gas powered Weed Eater lawn mower that makes lawn maintenance easier. It comes with a powerful and reliable Briggs & Stratton 550 series engine. The mower has a 21" cutting deck that can mow small to medium-sized home lawns quickly. It is a 2-in-1 deck with mulching and bagging capabilities that ensure healthy and well-maintained lawns. A five-position height adjustment system allows you to set the cutting height giving you control over the outlook of your lawns. The mower comes with 7" front and 8" rear wheels that improve its maneuverability.
Weed Eater 961320058 20-Inch 24 Volt 3-N-1 Cordless Electric Lawn Mower
If you are looking for a Weed Eater lawn mower that enables you to mow your lawns in an environmentally friendly way, then consider their 961320058 cordless electric lawn mower. The mower has a 20" cutting deck that is adequate for mowing small to medium-sized residential lawns in a time-saving manner. The 3-in-1 cutting deck has mulching, bagging, and side discharge functionalities. You can give your lawn the desired appearance by choosing one of the seven height adjustment positions using a single lever system. Its motor derives power from a 24-Volt rechargeable battery while freeing you from the hassles of regular maintenance and oil changes that accompany a gas lawn mower. The mower has 7" front wheels and 10" rear wheels making it suitable for flat and rugged terrains. An ergonomic handle makes it easy to maneuver the mower. The package includes a charge for recharging the battery.
Weed Eater 20-Volt Cordless Interchangeable Combo BT301i
The Weed Eater BT301i cordless interchangeable combo consists of great tools that can supplement your Weed Eater lawn mower and make your lawns immaculate. The package includes a blower, a hedge trimmer, and a string trimmer. The tools attach to a universal powerhead that contains a 20V 2.5Ah rechargeable battery. Its blower can produce 250CFM of force and a speed up to 80mph to clean your lawn easily. The string trimmer attachment has a cutting width of 12" and can help you get rid of weeds and unwanted grass. The hedge trimmer has two 16" dual-action blades which can easily handle branches with up to 0.5" diameter. Weed Eater provides a 5-year limited warranty on the BT301i combo.