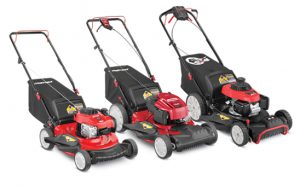 Troy-Bilt lawn mowers are popular across the USA and around the globe. Their lineup has value for money offerings that come packed with features. They manufacture all types of lawn mowers that include push-type, self-propelled, and riding mowers. Buyers may choose one of these depending on the size of their lawns and yards.
TB Walk-Behind Push Mowers
The TB Walk-Behind lineup of Troy-Bilt lawn mowers consists of affordable models that make lawn maintenance easier. There are four variants available that may have a 140cc Briggs & Stratton engine, a 160cc Troy-Bilt engine or a 163cc Honda engine. The variants come with a 21" deck that has the TriAction cutting system with mulch, rear bag, and side discharge options. There are six different cut settings ranging from 1.25" to 3.75" that can be adjusted using a dual-lever. Users can adjust the height of the handle as per their convenience. The base model of walk-behind mowers has an MSRP of $199.99.
TB Self-Propelled Mowers
The Self-Propelled Troy-Bilt lawn mowers allow you to tend to medium sized yards and gardens with minimum effort. The lineup consists of a wide array of models that might have a front wheel drive, a rear wheel drive or a 4X4 drive. These may come with engines ranging from 150cc to 195cc depending on the model. All models have a 21" deck that supports mulch, side discharge, and rear baggage cutting capabilities. Users can select one of the six cutting heights that range from 1.25" to 3.75". Troy-Bilt's self-propelled lawn mowers start at $269.99.
TB Wide Cut Mowers
Do you wish for a lawn mower that packs the features of a riding mower into a compact package? Troy-Bilt's Wide Cut mowers make your wish come true. These are walk-behind lawn mowers that come with wider cutting decks that reduce time and effort. There are two variants available – one with a 28" deck powered by a 223cc engine and the other with a 33" deck and a 382cc engine. They both feature rear-wheel drive and are self-propelled. The wide cut models are priced at $849.99 and $1,199.99 and are covered by a 3-year limited warranty.
Super Bronco
The Super Bronco Troy-Bilt lawn mowers are designed for large properties and heavy-duty operation. They are available with different decks that include 42", 46", 50" and 54". These mowers have a side discharge capability with deck wash. There are twelve different deck height positions allowing homeowners to mow their lawns precisely. An electric start, soft touch steering, and a foot-controlled hydrostatic transmission make it easy to operate these lawn mowers. The Super Bronco series starts at $1,499.99. More economical Bronco variants are also available that come with five deck heights.
Mustang Zero Turn Rider
The Mustang Zero Turn Rider series of Troy-Bilt lawn mowers allows you to landscape your lawn precisely as you want and in minimum time. The models are available in 34", 42", 46", 50", 54", and 60" twin-blade decks giving a number of options for the users. Their two-way adjustable lap bars can accommodate riders with different body frames. A high-back seat provides a smooth ride thanks to its plush cushion and dual suspension springs. The models come with 3-year limited warranty with the frame having a lifetime coverage. Mustang Zero Turn Riders begin at MSRP of $2,199.99.