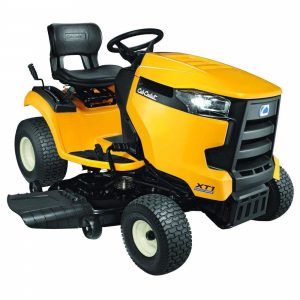 Riding lawn mowers are the ideal option for mowing large lawns covering multiple acres. These mowers have wider cutting decks which can mow a larger area in an efficient and time-saving manner. There are various riding lawn mower brands that are known for their riding models. These brands have developed innovative technologies and features that make lawn maintenance easier for their users. Here are a few popular riding lawnmower brands whose offerings can be considered by buyers.
John Deere
John Deere is one of the most renowned riding lawn mower brands. The company has been manufacturing mowers and outdoor equipment for several decades. Its products are famous for their reliability and durability. John Deere has a wide lineup of riding lawn mowers starting from the compact 100 Series and going all the way to the X700 Signature Series. The list of features found in their products includes Accel Deep decks, power steering, and all-wheel-drive (AWD) system.
Cub Cadet
Cub Cadet is a famous company when it comes to riding lawn mower brands. It has been producing lawn equipment since 1961 and has several decades of experience under it. Their riding products include the affordable XT1 series, the versatile X2 series, and the top of the line XT3 series. The mowers may feature reliable Kohler engines, triple-blade decks, belt-less drive shafts and Bluetooth connectivity for the Cub Connect application. It also manufactures a wide range of zero-turn mowers.
Husqvarna
Husqvarna is an internationally known company on the list of riding lawn mower brands. It manufactures a wide range of riding mowers to cater to the needs of different people. Its products feature innovative technologies like ClearCut decks, electronic blade engagement system, and hydrostatic transmission with lock differential to make mowing easier and efficient. Husqvarna's riding mower range starts from the versatile LTA series and goes up all the way to the 300 series.
Craftsman
Craftsman is a popular name among riding lawn mower brands. It manufactures various models of riding mowers, lawn and garden tractors, and zero turn tractors. The mowers may have cutting decks ranging from 30" to 54" and will cater to buyers with different needs. Craftsman riding mowers come with reliable engines, have a tight turning radius for superior maneuverability and are built to last.
Toro
Toro is a well-known company and one of the best riding lawn mower brands. It produces a wide range of riding mowers that starts from its versatile TimeCutter series and goes all the way to the commercial grade Titan series. The mowers are built from heavy-duty components and can take on the toughest mowing jobs. Toro also provides a wide range of customization options on its riding mowers.
Troy-Bilt
Troy-Bilt is one of the favorite riding lawn mower brands of homeowners. Its products are highly sought after for their excellent value for money proposition. The riding mowers from the brand range from the compact TB30 to the Super Bronco 54 XP designed for mowing large lawns and yards. They are equipped with reliable and powerful engines and are built to last.
Poulan Pro
Poulan Pro is considered one of the best riding lawn mower brands for its heavy-duty and durable products. The company manufactures riding mowers with deck widths ranging from 30" to 48" for different applications. It provides a 10-year warranty on the deck and the transmission of its riding mowers which signifies the superior build quality of its mowers.