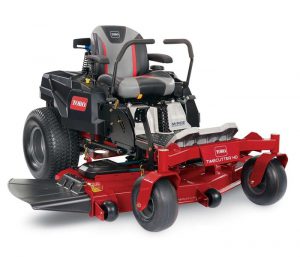 Having the right lawn mower is essential for maintaining a great looking lawn. While some lawn mowers are designed to cut grass and get the job done, there are others that provide superior cutting quality and precise control. Zero turn lawn mower are top tier machines when it comes to lawn mowing.
What Is A Zero Turn Lawn Mower?
A zero turn lawn mower is essentially a riding lawn mower. However, unlike standard riding lawn mowers that have a turning radius in double digits, zero turn lawn mowers have a turning radius of zero. They can essentially turn 360° on their axis. Turning radius defines the space required for a vehicle or lawn mower to make a U-turn. The zero turning radius of the lawn mower allows it to be maneuvered around flowerbeds, poles, trees, and pathways while cutting the grass precisely for yielding a well-maintained lawn. While these lawn mowers are better than their standard counterparts, they are also more expensive. They are an ideal choice for people who want a top-quality lawn mower and have the money to spare.
Here are a few zero turn lawn mowers available on the market today that are highly popular among people.
Ariens Zoom 34
Ariens Zoom 34 is a compact, feature packed and affordable zero turn lawn mower. A 19hp Kohler 6600 V-Twin engine propels the lawn mower. It comes with a dual lever steering and has 34" stamped 12-gauge steel deck. The user can choose from seven different cutting positions to set a cutting height between 1.5" and 4.5". A bagger and mulching kit are available separately. Ariens' Zoom 34 has a starting MSRP of $2,499 and comes with a 3-year limited warranty.
Poulan Pro P46ZX
The P46ZX is a midrange zero turn lawn mower from Poulan Pro. It is equipped with 22hp Briggs & Stratton Pro Series engine. The mower has a 46" reinforced steel cutting deck with two blades and supports collect, mulch and side discharge operations. There are six cutting height positions ranging from 1.5" to 4". Its steering lap bars, dual hydrostatic drive system, and zero turning radius allow precise control for superior mowing. It has an MSRP of about $2,800 and is covered by 2-year consumer warranty.
Toro 60" TimeCutter HD Zero Turn Mower
If you need a premium zero turn lawn mower to landscape your estate spread over several acres, then consider the 60" TimeCutter HD from Toro. A 708cc Toro Commercial V-Twin Engine powers this lawn mower. Its 60" fabricated steel deck will mow the biggest lawn in no time. The cutting height can be set from 1.5" to 4.5" by choosing one of the thirteen adjustment positions. Its MyRide suspensions system allows the user to adjust the rear shockers for a comfortable ride. The 60" TimeCutter HD has an MSRP of $6,199 and 3-year/300hours warranty coverage.
Cub Cadet RZT S Electric Zero Turn Rider
Mow your lawn with precision and stay eco-friendly with the RZT S Electric model from Cub Cadet. It's a zero turn lawn mower that comes with four brushless motors, two for the deck and the other two for the drive. The motors are powered by 48Volt-92Ah batteries. The mower has a 42" cutting deck with two blades each of which is propelled by an individual motor. Users can choose a height from 1.5" to 4" using the 8-position adjustment. It can run for 60 minutes easily on a single charge. The RZT S Electric is priced at $3,999 and is backed by a 3-year/120 hour limited warranty.