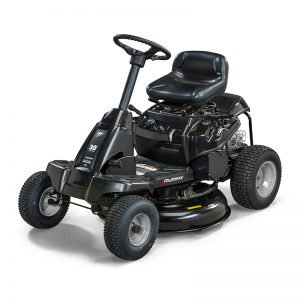 Maintaining lawns and yards that cover several acres can be a tedious task. Homeowners with large yards can purchase riding lawn mowers which are designed to mow large areas in an efficient and time-saving manner. However, the price of these mowers may discourage some buyers. There are several cheap riding lawn mowers available from different manufacturers that have all required features and are economical. Here are a few cheap riding lawn mowers that are easy on the pocket.
Murray M105-30 Rear Engine Rider
The Murray M105-30 rear engine rider packs the features of a riding mower into a small frame. It is a cheap riding lawn mower that is powered by a Briggs & Stratton Power Built 344cc engine with 10.5hp power output. The package includes a mulching kit while a rear bag can be purchased separately. The mower comes with an electric start and has a six-speed transmission that allows you to set the speed without stopping. Its wheel steering and a turning radius of 18" provide increased maneuverability. Murray provides a 2-year limited warranty on the riding mower.
Cub Cadet XT1 LT42"
The XT1 LT42" is an economical offering from Cub Cadet and a great choice for homeowners looking for cheap riding lawn mowers. The mower has a Kohler 5400 Series engine under its hood with 18hp power output. Its stamped mower deck is 42" wide and has a twin blade system. A spring assisted lever allows you to set the cutting height from 1" to 4". The deck has the SmartJet washing system that makes cleaning easy and an optional kit adds mulching capability. It comes with an electric start, LED headlights, hydrostatic transmission, cruise control and the RevTek reverse mowing technology. The XT1 LT42" comes with a 3-year unlimited hours warranty with the chassis & front axle covered by a 5-year unlimited hours warranty.
Husqvarna YTH1942
The Husqvarna YTH1942 is another great option when it comes to cheap riding lawn mowers. It has a Loncin engine that delivers 19hp of power. The 42" cutting deck will reduce the time and effort required for mowing yards spread over several acres. A fender mounted lever allows the cutting height to be adjusted. Its deck comes with a washing port that allows easy cleaning. It has a hydrostatic transmission, sliding seat and cruise control that make the riding experience simple while minimizing fatigue. Buyers can extend the capability of the mower by opting for optional accessories.
Troy-Bilt TB30 Neighborhood Rider
If you are looking for a compact and cheap riding lawn mower, then the TB30 Neighborhood Rider will fit your bill. The mower has a small frame with a 30" cutting deck that has a side discharge option. There are five height adjustment positions provided that allow you to give the desired outlook to the lawn. You can buy the optional bagging and mulching kit for additional cutting functionalities. It is equipped with a 382cc Troy-Bilt single-cylinder engine and a six-speed transmission. The mower has a turning radius of 18" and can mow in reverse. The TB30 Neighborhood rider comes with a 2-year warranty.