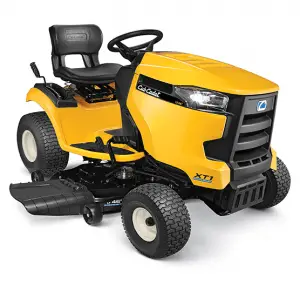 Do you own a farmhouse or a family estate covering acres of space? Then a regular lawn mower will not suffice for your needs. A riding lawn mower is an ideal choice for homeowners that have houses with large lawns and gardens.
What is a Riding Lawn Mower?
A riding lawn mower, also known as a lawn tractor, is a lawn mower designed for big yards and lawns spread over several acres. It has a heavy-duty engine and a longer cutting deck made of superior materials that allow it to cover large areas quickly. There are many comfort-enhancing features provided that prevent fatigue when using the lawn mower for long durations. Here are a few popular riding lawn mowers and lawn tractors for you to consider.
Cub Cadet XT1 Enduro LT46"
The Cub Cadet XT1 Enduro LT46" is an excellent riding lawn mower that will make mowing your lawns a breeze. It comes with the Kohler 7000 Series V-Twin engine that delivers 22hp power output. The XT1 has a 46" cutting deck with twin blades. Homeowners can choose from the twelve deck positions provided for setting the cutting height between 1" to 4". An optional mulch kit can extend the capability of the deck. Its 16" turning radius and hydrostatic transmission allow for easy control. Standard features include LED headlights, an electric start, and deck wash system. The XT1 Enduro LT46 has an MSRP of $1,699 and comes with a 3-year unlimited hours warranty.
Troy-Bilt Super Bronco 50 XP Lawn Tractor
The Super Bronco 50 XP riding lawn mower from Troy-Bilt is a powerful option for mowing large lawns. It is powered by a Kohler 7000 Series engine that delivers 24hp output. Its 50" 12-gauge steel cutting deck will trim thick grass quickly. The deck can be engaged at the press of a button and has twelve different height settings. It comes with side discharge capability as standard while optional accessories allow mulching and bagging. Other features include an electric start, hydrostatic transmission, and reverse mowing system. The Super Bronco carries a price tag of $1,899.99 and has 3-year limited warranty coverage.
Husqvarna R 322T AWD
If you need a powerful and versatile riding lawn mower and have the cash to spare, consider the Husqvarna R 322T. The lawn mower has a Briggs & Stratton V-Twin engine with 655cc (40.03 cu. in.) displacement capacity. Its front-mounted cutting deck sets it apart from other riding lawn mowers. The deck is designed for maximum efficiency and excellent mowing accessibility. It can be used under benches and in tight spaces. An all-wheel-drive system provides traction on slopes and in wet grass. The stamped steel cutting deck facilitates a cutting width between 41" to 48" and the cutting height from 1" to 3". It has an MSRP of $4,400. A cheaper rear wheel drive variant is also available.
Yard Machines 13AM775S000 Riding Mower
If you are looking for an affordable riding lawn mower then consider the 13AM775S000 variant from Yard Machine. It has a Briggs & Stratton single cylinder engine with 15.5hp power output. The mower has a 42" cutting deck with side discharge that allows it to cover large lawns in minimum time. Buyers can add bagging capability to the mower. It has a 7-speed manual transmission with the shift-on-the-go capability and a headlight. Yard Machine provides a 2-year limited warranty on the 13AM775S000 lawn mower that has an MSRP of $1,099. Another variant is also available that comes with a PowerMore 420cc engine.