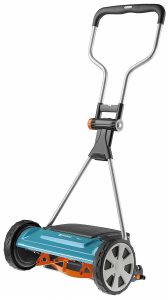 There are different types of lawnmowers available in the market to suit the needs of different buyers. An important factor that homeowners must consider while buying a lawnmower for maintaining their lawns is the height of the grass. Some varieties of grass grow slower and may not be as tall as other varieties of the grass. The design of some lawn mowers makes them more suitable for small grass while others are ideal for medium and tall grass.
A cylinder lawn mower is a perfect choice for the buyers whose homes have small grass or for those who like to maintain the grass at a small height. These mowers have multiple cutting blades on a horizontal reel at their frontside. The blades cut the grass with a scissor-like action providing a superior quality of cut. Cylinder lawn mowers are a great choice for homeowners who have small yards. Most of them are operated manually and do not require a fuel like gas making them eco-friendly. Here are a few great cylinder lawn mowers available from different brands.
Gardena Comfort Hand Cylinder Lawnmower 400 C (4022)
The Gardena Comfort Hand 400 C is a great option for homeowners who are looking for a good quality cylinder lawn mower. It is a manual mower propelled by the pushing action of the user. Its cutting cylinder and bottom blade do not come in contact with each other. Instead, the grass is taken up and cut in a scissor-like manner. It yields a high-quality cut and produces minimal noise. The cutting deck of this cylinder lawn mower is over 15" (40cm) wide and will make quick work of mowing your lawns. Its cutting cylinder is made of steel and has a coating of non-stick material. Its large wheels make it easy to use on rough terrains and provide optimum grip. The four-step cutting height adjustment system allows you to choose a cutting height from 12mm to 42mm. The ergonomic handle of the mower makes it easy to use. The Gardena Comfort Hand 400 C is ideal for lawns up to 250m2.
American Lawn Mower 1815-14
If you need a cylinder lawn mower with a wider cutting width, then consider the American Lawn Mower's 1815-14 model. It has a cutting width of 18" that enables you to mow small to medium home lawns in a short time. The mower comes equipped with five blades made of tempered steel alloy. They are mounted on a ball bearing reel to minimize the effort required for mowing while yielding superior quality of cut. You can set the cutting height from 0.5" to 2.75" to give your lawn the desired appearance. The handle of the 1815-14 cylinder lawn mower has a cushion grip that minimizes fatigue and makes the mower easy to use. American Lawn Mower 1815-14 comes with a 2-year limited warranty to give you complete peace of mind.
Gardena Accu Rechargeable Cylinder Lawnmower 380 Li (4025)
The Gardena Accu rechargeable cylinder lawn mower is a unique tool that allows you to mow your lawns effortlessly while providing a superior quality of cut. The mower comes with a 25V 3.0Ah Li-ion battery that propels its cutting cylinder and blades. An inbuilt safety cutoff protects the mower against overheating. You can also operate the mower manually without the battery. It has a cutting width of approximately 15" (38cm) which enables you to mow your lawns quickly. You can set the cutting height from 12mm to 42mm as desired. The bottom blade of the mower moves without contacting the cutting cylinder, yielding a clean and precise cut while ensuring low noise mowing. Gardena Accu comes with a collection bag for making mowing neat and clean, extra-large wheels for improving navigation on different terrains and an ergonomic foldable handle. It is ideal for lawns up to 400m2.