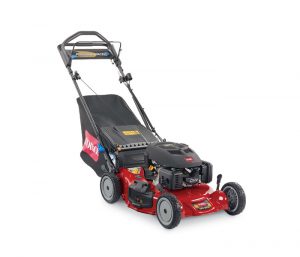 A lawn mower is an essential requirement for great looking lawns. They are available in different types and sizes. Lawn mowers may either use gas as a fuel or may run off electricity or batteries. Gas lawn mowers are the most popular type among homeowners across the USA. These lawnmowers are affordable and cheap to operate. They boast of exceptional cutting quality and do not have runtime limitations, unlike battery operated lawn mowers. Here are a few popular and recommended gas lawn mowers that you may consider.
Yard Machines 11A-02SB700 140cc 20" Push Mower
The Yard Machines 11A-02SB700 is a highly popular entry-level gas lawn mower. It is a push-type mower that is ideal for small sized lawns and yards. It comes with a 140cc Powermore OHV engine that has a durable and robust design. The mower has a 20" cutting deck that will make quick work of mowing small lawns. Its deck has side discharge capability and gives you the freedom of selecting the cutting height. It comes with three adjustment positions that allow you to set the cutting height from 1.25" to 3.75". The mower comes with a 1-year limited warranty.
Husqvarna 7021P Lawn Mower
The Husqvarna 7021P is an affordable gas lawn mower that allows you to mow your lawn with precision. Its steel cutting deck is 21" wide and is capable of rear bagging, mulching, and side discharge. Homeowners can set the cutting height from 1.25" to 3.42" using the 4-point, 9-position adjustment system. The lawnmower comes with a reliable Honda GCV160 engine. Its compact design, 12" rear wheels and an adjustable handle with soft grip make it easy to maneuver around flower beds and narrow paths.
Poulan Pro 450N20S Lawn Mower
If you are looking for an economical push-type gas lawn mower, then consider the Poulan Pro 450N20S. The mower comes with a 125cc 450e Series engine from Briggs & Stratton. It has a 20" stamped steel cutting deck that has mulching and side ejection capabilities. Homeowners can choose from five different height positions to set the cutting height from 1.56" to 3.06". The mower is compact and lightweight and is easy to maneuver around flower beds, poles, and trees. The Poulan Pro 450N20S mower comes with a 2-year warranty.
Troy-Bilt TB330 Self-Propelled Gas Lawn Mower
The Troy-Bilt is a midrange self propelled gas lawn mower that makes it easier to own a great looking yard. It comes with a 163cc Briggs & Stratton 725EXi Series engine. The rear wheel drive system provides more traction allowing you to use the mower on wet and uneven terrains. You can choose one of the four different speed settings using a lever. It has a 21" cutting deck with TriAction cutting system that supports side discharge, mulching, and rear baggage. You have the option to set the cutting height from 1.25" to 3.75". The TB330 comes with a 3-year limited warranty.
Toro 20383 21″ Personal Pace Spin-Stop Super Recycler Mower
The Toro 20383 is a premium gas lawn mower that has top of the line features. It comes with a powerful 159cc Toro TXP engine with the Spin Stop technology that allows you to stop the blades without powering off the engine. The cast aluminum mower deck has a cutting width of 21" and comes with the required kits for mulch, bag, and side discharge operations. It has a rear wheel drive with the Personal Pace technology that adjusts the speed of the mower to match your walking pace. Toro 20383 has a 5-year full coverage warranty and a 5-year Guaranteed-to-Start engine warranty.