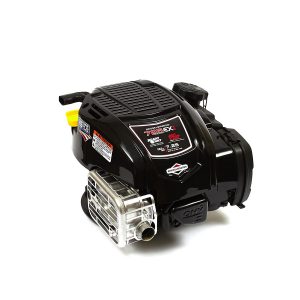 A lawn mower engine propels the blades of the mower and powers its drive system. It uses gas as fuel and heats up when the mower is in use. It has mechanical components that may experience wear and tear over time. Most lawn mower engines available from different brands require regular maintenance and oil changes to keep them in prime condition. However, engines may develop faults, or a few of their components might break. Sometimes the engines may be beyond repair and might have to be replaced.
A few owners may also find their existing lawn mower engines inadequate and might want to upgrade then. Many companies are renowned for manufacturing reliable lawn mower engines. Their engines have varying features and power outputs and will suit requirements of different buyers. Here are a few lawn mower engines that come with high recommendations from the customers.
Briggs and Stratton 104M02-0020-F1 163cc 725Exi Series Push Mower Engine
The Briggs and Stratton 104M02-0020-F1 725Exi Series engine is a great option for homeowners who are searching for a lawn mower engine for a push model. It is a single-cylinder engine that has a displacement capacity of 163cc and 7.25 gross torque. The engine has Dual-Clean air filtration system that maximizes performance. It has a recoil starter as well as a Magnetron electronic ignition that makes it easy to start the engine. An inbuilt muffler reduces the noise produced for quieter operation. It comes with a fuel tank and a buyer does not need to purchase the same separately. The Briggs and Stratton 104M02-0020-F1 725EXi Series engine is as reliable as it is powerful and comes with a 2-year consumer warranty or a 90-day commercial usage warranty.
Honda GC160LAQHA GC160 Series OHC Lawn Mower Engine
The Honda Honda GC160LAQHA GC160 Series OHC engine is a reliable lawn mower engine for small to medium-sized push mowers. It is a 160cc 4-stroke Overhead Camshaft (OHC) engine that outputs 4.6hp of power. The engine is lightweight yet reliable and fuel efficient. It has uniblock construction that makes it durable and sturdy. The engine is designed to minimize noise and vibrations allowing for a quieter operation. Its Dual Lube splash system improves the lubrication and extends the life of the engine. It has a recoil starting system, a fuel tank with a capacity of 1.9 US quarts, and a single element paper air filter.
Briggs & Stratton 33R877-0003-G1 Intek Vertical Riding Mower Engine
Homeowners who are looking for a replacement lawn mower engine for their riding mower can consider the Briggs & Stratton 33R877-0003-G1 Intek Series Engine. It is a single-cylinder 540cc engine with a power output of 19hp. A premium grade Dual-Clean air filtration system improves the performance of the engine, and the Dura-Bore cast iron cylinder sleeve increases its longevity. It features an OverHead Valve (OHV) design to keep it cool and increase the life expectancy of the valve. The engine comes pre-installed with the Magnetron electronic ignition, a muffler to reduce noise, a fuel pump, an oil filter and a 9Amp charging system. Briggs & Stratton provides a 2-year consumer and a 1-year commercial warranty on the engine.