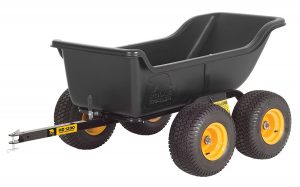 Lawn mowers assist homeowners in mowing gardens and yards and keeping them in excellent shape. Most modern lawn mowers are versatile and multipurpose tools. They come with powerful engines and have towing capability. There are many lawn mower trailers available that can be attached to riding lawn mowers and lawn tractors. These trailers can be used to haul tools and equipment or for collecting grass. Here are a few lawn mower trailers that can make life easier for you.
John Deere 650lb. Tow-Behind Poly Utility Cart PCT-100JD
Extend the capabilities of your John Deere lawn tractors with the PCT-100JD poly utility cart. It allows you to haul items behind your mower. The cart has a 56º dumping angle and comes with a foot pedal that makes it quick and easy to unload the hauled cargo. Its polypropylene bed has a true capacity of 650lbs. The steel tow bar and sub-frame are powder coated and sturdy and durable. The universally designed hitch allows the cart to be attached to lawn mowers from different brands. It comes with 15" pneumatic tires with turf treads that keep the cargo safe and stable.
Polar Trailer 8261 HD 1200 Tandem Axle Utility Cart
If you need a heavy-duty lawn mower trailer, then consider the 8261 HD 1200 trailer from Polar. It comes with four trailer tires attached to the Tandem Walking Arm. The trailer has an all-steel powder coated frame and a sturdy polyethylene tub with a carrying capacity of 1200lbs. A quick release latch makes it easy to unload the trailer. Its high ground clearance allows it to navigate rugged terrains easily. The 18" wide track tires with ballbearings further improve its maneuverability while increasing stability.
Gorilla Carts GOR6PS Heavy-Duty Poly Yard Dump Cart
The Gorilla Carts GOR6PS is an affordable lawn mower trailer with high carrying capacity. It has a 40×20" plastic bed with a hauling capacity of 1200lbs. The bed is supported by a steel frame that has four 13" pneumatic rubber tires. The cart has a patented quick release feature that allows for fast unloading of hauled goods. It comes with a 2-in-1 handle for towing the cart behind a lawn tractor as well as for pulling it by hand. The cart has high ground clearance and a tight turning radius and comes with a 1-year limited warranty.
Agri-Fab 45-0345 350-Pound Poly Convertible Push/Tow Dump Cart
The Agri-Fab 45-0345 tow cart will fit the bill of the buyers who are searching for a small sized lawn mower trailer. The cart can be used both as a pushcart and a tow cart. Its durable bed has a capacity of 350lbs. and rests on a steel frame. A lever makes it easy to unload the cargo from the cart. It comes with two 14" pneumatic tires that improve its maneuverability. Agri-Fab provides a 3-year limited warranty on the cart.
Precision Products LDT-1002B Trailer Dump Cart
The LDT-1002B is a great lawn mower trailer from Precisions Products. The cart has a capacity of 750lbs. and can be towed behind a lawn mower or garden tractor. It has an 18-gauge steel bed supported by a steel frame and a steel axle. Its two 16" pneumatic tires allow it to navigate rough terrains easily. A removable tailgate and the release handle makes it easy to dump the hauled items. It comes with a 90-day limited warranty.