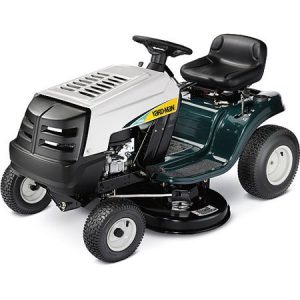 MTD is a well-known company when it comes to lawn mowers. The company sells a wide range of lawn mowers that include push lawn mowers, self-propelled lawn mowers and riding lawn mowers. MTD lawn mowers are quite popular as they are reliable and built to last. However, every lawn mower requires regular maintenance to improve its life. Its parts have a limited lifespan and must be replaced to keep the lawn mower functioning at optimum levels. MTD lawn mower parts are available from the company for its different models. They can replace the worn out or damaged components in the lawn mowers and lease them a new life. If you own an MTD lawn mower, then here are a few MTD lawn mower parts that can help make it brand new again.
MTD Genuine Parts 20-Inch Mulching Blade
Blades are one of the commonly replaced MTD lawn mower parts. The quality of the cut of a lawn mower depends on the sharpness of its blades. Blades experience friction when they cut the grass which makes them blunt with repetitive usage. It lowers the cutting quality of the blade and makes the grass tips frayed and torn. Blades can also break when they come in contact with hard objects like rocks. The MTD 20-Inch mulching blade is the ideal replacement for most lawn mowers from the company. It is a 3-in-1 blade that replaces MTD lawn mower parts with serial numbers 742-0740 and 942-0740. It is designed for the lawn mower models that have a 20" cutting deck and are manufactured during and after the year 1997. It will fit most models sold under different brands of MTD including Yard Machines, MTD Gold, Bolens, and Yard-Man.
MTD 42-Inch High-Lift Blade Set
The blades of the riding lawn mowers must also be replaced from time to time. The MTD 42-Inch high-lift blade set is an MTD lawn mower part for riding mowers from the company having a 42" cutting width and manufactured after 2010. The set contains a pair of 2-in-1 blades with bagging and side discharge capabilities. It will fit most riding lawn mower models that MTD sell under different brands including Yard Machines, Bolens, Yard-Man and MTD Pro.
 MTD 42-Inch Deck Drive Belt for Tractors
The deck drive belt is one of the frequently replaced MTD lawn mower parts. The belts are responsible for transferring the propelling motion from the engine to the deck which in turn propels the blades. The belts experience wear and tear with time and might become loose or break. They must be replaced after a few years. The MTD 42-inch deck drive belt is the ideal MTD lawn mower part for owners of MTD lawn tractors manufactured after 2005. It will fit different brand models from MTD including MTD Gold, Yard-Man, Bolens and Yard Machines.
MTD 634-0190A Front Drive Wheels
Lawnmower wheels are commonly replaced MTD lawn mower parts. Wheels wear out after a few years and might lose their treads. It lowers their traction and affects the cutting performance of the lawn mower warranting their replacement. If you own a self-propelled front wheel drive (FWD) lawn mower from an MTD brand whose front wheels need replacement, then the MTD 634-0190A is the right MTD lawn mower part for your mower. The package contains two wheels allowing you to change both the front wheels of your MTD lawn mower.