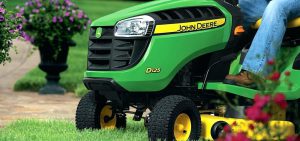 Buying brand new riding lawn mowers can be quite expensive. They can setback the finances of the buyer by quite a bit. Homeowners who have large yards but do not want to spend a significant amount of money can consider buying used riding lawn mowers. People sell their lawn mowers as they no longer need them or want to replace them with newer models. Used riding lawn mowers are available at almost half the rates of their new counterparts. Purchasing these mowers over brand new models might be a wise choice for buyers.
Tips for Buying Used Riding lawn mowers
Buying used riding lawn mowers can be quite tricky. A person might come upon a great lawn mower at a cheap price or they might end up with a faulty machine. Buyers can consider the following tips when shopping for a used riding lawn mower. These tips can assist them in selecting the right lawn mower.
Inspect the Lawn Mower
A visual inspection of the lawn mower will help you analyze the current condition of the lawn mower. Look under the engine hood and below the deck for any rusting or corroding. Inspect the axle, belts (if any), motor and tires for any cracks or wear and tear. Rusting of frame or deck indicates poor maintenance of the lawn mower. It is wise to avoid purchasing such an item. A poorly maintained item will lead to high repair cost that might offset the money saved by buying the used riding lawn mower.
Check the Hour Meter
Riding lawn mowers from most manufacturers come with an inbuilt hour meter. The hour meter indicates the total runtime of the lawn mower till date. The higher is the runtime, the more deteriorated the lawn mower will be. Higher usage will also indicate a lower price. It is best to check the hour meter when buying a used riding lawn mower. In case the mower is not equipped with an hour meter, the condition of its tires will give a good indication of its usage.
Determine the Price
The most important thing while buying a used riding lawn mower is determining its price. Its price would depend on how old it is and its current condition, but it should be no more than 50-60% of its new counterpart. A lawn mower that is only a few months old and in great condition may merit a higher price.
While calculating the right price for a used riding lawn mower, the cost of parts that require replacement must be factored in. If it is more than a couple of years old, a few of its part may require replacement. A gas lawn mower may need a service or at least an oil change. The battery and cutting blades might also require replacement. The buyer will have to incur additional expenses for the same.  These extra expenses must be taken into consideration when determining the price of the used lawn mower.
Ask For A Test Run
While looking for a used riding lawn mower, it is best to ask the sellers for a test run. It will help to determine if the lawn mower is in working condition and identifying any issues with it. It will also help the user decide up on a lawn mower that best fits their needs. While test driving, make sure that the engine starts in a few attempts, the brakes work, and the steering is fine. You may even check the cutting system to ensure that it works. Play with the deck positions and cutting heights and determine if they are up to your liking. A test run will also indicate if the blades are sharp or need replacement.
Service History and Warranty Information
A person shopping for a used riding lawn mower must ask the current owner the maintenance and service schedule they followed. Regularly serviced lawn mowers will be in better condition. The buyer may also inquire if the lawn mower in under warranty coverage. Riding lawn mowers have a 2 or 3-year warranty coverage with some manufacturers providing 5-years warranty. Buying a lawn mower that is currently under warranty will be beneficial.
When shopping for a used riding lawn mower, it is best to stick with reputable brands like Craftsman, Cub Cadet, Honda, Husqvarna, and John Deere among others. Their lawn mowers are built to last and won't break down easily. The replacement parts for the lawn mowers of these brands are also easily available.