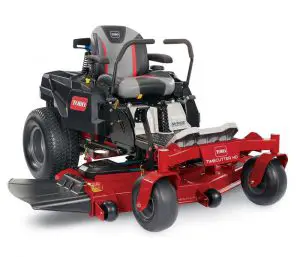 Riding lawn mowers are the best choice for large lawns. They allow you to cover a large area while minimizing mowing time and reducing the effort required. Buying a riding lawn mower is a significant investment. The buyer must be sure of their purchase before committing to it. It can be quite confusing to select the best riding lawn mower as per one's needs. Here are a few popular and highly recommended lawn mowers that you can consider for your lawns.
Poulan Pro PP22VA48
The Poulan Pro PP22VA48 is one of the best riding lawn mowers available in the market. It has a 22hp Briggs & Stratton twin-cylinder engine under its hood. The mower's stamped cutting deck is 48" wide and allows six cutting heights ranging from 1.5" to 4". It supports collect, mulch and side discharge operations and comes with a wash port. The fast CVT automatic transmission and a tight turning radius of 6" make mowing easy. Standard features on the mower include a digital hour meter, headlights, 15" vinyl seat, and a cupholder. Poulan Pro provides a 2-year consumer warranty on their PP22VA48 mower.
Cub Cadet XT1 GT50"
Cub Cadet's XT1 GT50" is highly recommended by consumers making it one of the best riding lawn mowers for homeowners. It comes with a 25hp Kohler V-Twin 7000 Series engine. It has a 50" triple-blade stamped deck designed for heavy-duty operation. You can choose from twelve different positions to set the cutting height between 1" to 4". A hydrostatic transmission operated by foot pedal, cruise control and 16" turning radius enhance the maneuverability of the XT1 GT50". Electric start, digital hour meter, LED headlights, and wash port are standard. The XT1 comes with a 3-year unlimited hours warranty with its chassis & front axle covered by a 5-year unlimited hours warranty.
Husqvarna GTH52XLS
If you are searching for a midrange mower for heavy-duty usage, then the Husqvarna GTH52XLS is the best riding lawn mower for you. A 24 hp Briggs & Stratton V-Twin engine powers the lawn mower. It comes with a 52" cutting deck that can mow several acres in a short time and withstand heavy usage. Its hydrostatic transmission comes with a rear locking differential to provide increased traction for areas with wet grass or slopes. There are multiple attachments available for the mower that include bagger and mulching kits among others. Features such as cruise control, hour meter with service reminder, headlights, deck wash port, and armrests add to its value. Husqvarna provides a 3-year limited warranty on the GTH52XLS with a 5-year warranty on the chassis and front axle.
Toro 48″ MyRide TimeCutter HD 75211
Are you someone who owns a large yard, wants to buy the best riding lawn mower and has the money to spare? Then the Toro TimeCutter HD 75211 is the right choice for you. It comes with 22.5hp Toro Commercial V-Twin engine designed for heavy duty operation. The mowing deck is 48" wide and made of Grade 50 high strength steel. You can choose from thirteen different height positions to set the cutting height from 1.5" to 4.5" for mowing your lawn as per your requirements. Its MyRide suspension system allows you to adjust the two rear shocks for maximizing comfort. The lever steering, zero turning radius, and commercial grade transmission enhance maneuverability. The TimeCutter HD 75211 comes with a 3-year/300-hour warranty.
Ryobi RY48111 100Ah Electric Riding Mower
The Ryobi RY48111 is the best riding lawn mower when it comes to environmental friendliness. It is an electric lawn mower that runs off a 100Ah battery. A single charge can power the lawn mower for up to 2.5 hours allowing it to cover up to 2.5 acres. It has high powered brushless motors that propel the lawnmower and drive its blades. The mowing deck is 38" wide and consists of two blades. You can set the cutting height from 1.5" to 4.5" by selecting one of the twelve adjustment positions. Features like cruise control and LED headlights make mowing easy. The lawn mower comes with a rear wheel drive system and does not require any routine maintenance, oil changing or servicing.