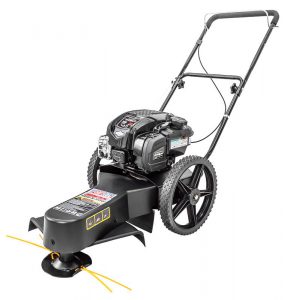 A trimmer mower allows homeowners to have well-trimmed lawns that are free from weeds and tall grass. It supplements a regular lawnmower which is primarily used for mowing or mulching. The trimmer mower can be used to landscape your lawn beds and give the edges a well-defined shape, imparting a unique character to your lawn. Trimmer mowers are available from different manufacturers and have varying features. Homeowners may consider their requirements while shopping for one of these. A few popular trimmer mowers from various brands are listed below.
 Remington 1159 Trimmer Mower
The Remington 1159 is the ideal choice for homeowners who need a simple and easy-to-use trimmer mower. It comes with a Powermore four-cycle OHV engine with a displacement capacity of 159cc. The 1159 trimmer mower from Remington has a 22" cutting swath that makes getting rid of tall grass and weeds easier. It has an offset trimmer head that allows it to trim hard to reach spots. You can even set the cutting height between 2.375″ – 4.375". Its 14" ball-bearing wheels allow it to navigate uneven terrains and slopes easily. Remington 1159 trimmer mower comes with a 2-year limited warranty.
Black+Decker MTC220 Compact Mower
Black and Decker's MTC220 is a compact and versatile trimmer mower. It is a 3-in-1 tool that can switch between mowing, trimming and edging functionalities for giving your lawn an immaculate appearance. The mower is as eco-friendly as it is versatile and runs off two 20V Lithium rechargeable batteries. It has an Automatic Feed Spool (AFS) that eliminates the need to adjust the spool saving time and effort. Its PowerDrive transmission system provides superior traction for improving the maneuverability of the mower in heavy grass. It has a 12" cutting path that supports a height from 1.6" to 2.4". Black and Decker provides a 2-year limited warranty on the MTC220 compact mower.
Poulan Pro 961720015 Lawn Trimmer Mower
Homeowners who want a powerful trimmer mower can consider Poulan Pro's 961720015 model. It comes with a 163cc Briggs & Stratton 675 EXI series engine with Just Check and Add technology that eliminates the need for oil changes. The trimmer has a 22" cutting width that makes it a suitable choice for medium-sized lawns. Homeowners can set the cutting height from 1.6" to 3.04" by choosing one of the six adjustment positions. Its 12" rear wheels allow it to be used on uneven terrains. Poulan Pro 961720015 lawn trimmer mower comes with a 2-year warranty.
Swisher ST67522BS Standard String Trimmer
The Swisher ST67522BS is another great trimmer mower for homeowners. It is powered by a Briggs & Stratton EXI engine with Just Check and Add technology, freeing you from the hassles of oil changes. The trimmer has a 22" wide cutting swath that allows you to cover a larger area while saving time. It has a diamond-shaped cutting line with a diameter of 0.155" that trims tall grass and weeds easily. Its offset trimmer head does not require any maintenance. The 13.75" high rear wheels improve its maneuverability on rough terrains. The Swisher ST67522BS is a high-quality product made in the USA.
Southland SWSTM4317 Wheeled String Trimmer Mower
The Southland SWSTM4317 wheeled string trimmer mower is a compact and easy-to-use tool. It has a 43cc two-cycle engine that drives its 17" cutting swath. The swath has a long-lasting trimmer string with a diameter of 0.155". The angle of its trimmer head can be adjusted for wall and edge trimming. It comes with an ergonomic handle and a thumb throttle control. It has 12" ball-bearing wheels for easier navigation in rough terrains. Southland SWSTM4317 trimmer mower comes with a 2-year warranty.