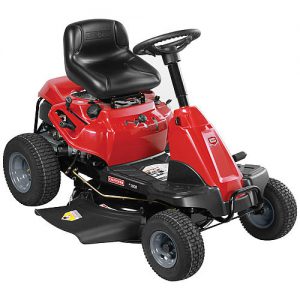 Homeowners who own large yards spanning over multiple acres have to dedicate substantial time for their maintenance. Using a walk-behind lawn mower can be tiresome and time-consuming. The homeowners can opt for riding mowers which can help decrease the workload and speed up the mowing process. These mowers come with a seat that allows the rider to sit comfortably and tend to the lawns. Here are a few riding mowers that are ideal for yards up to an acre or two.
Craftsman 29000 Riding Mower
Craftsman 29000 is a riding mower that allows you to mow your lawn precisely as you want. It is powered by a 420cc engine that is built to last. Users can choose from six variable speeds up to 5 mph and can even shift on the go. It has a 30" cutting deck with a single blade that can mow the grass in a short time. The 18" turning radius allows you to maneuver the lawn mower around trees, flower beds, and poles. There are five cutting positions with heights ranging from 1.5" to 4". It has bagging, mulching, and side discharge capabilities. The mower comes with a deck wash system and is easy to clean. It is covered by a 2-year residential warranty.
TB30 Neighborhood Rider
Troy-Bilt's TB30 Neighborhood Rider packs big features into a small frame. A Troy-Bilt engine with 382cc displacement powers it. The mower has a 30" mowing deck with side discharge. Users can extend the deck capabilities with an optional bagger and mulch kit. Its deck has five height adjustment positions. Other features include a six-speed transmission, a reverse mowing system, and an 18" turning radius. The TB30 Neighborhood Rider carries a price tag of $1,099 and has a 2-year limited warranty.
Cub Cadet CC 30H Rider
The CC 30H rider from Cub Cadet is a no-fuss riding mower that makes it easy to tend to your lawns. It has a Cub Cadet 382cc engine under its hood that comes with an electric start. Its deck has a 30" single blade and a mulch kit. The deck can be set in five different positions with cutting height ranging from 1.5" to 4". With an 18" turning radius it can be easily used in tight and narrow spaces. An inbuilt deck washing system with SmartJet ensures easy cleaning after use. Cub Cadet CC 30H has an MSRP of $1,299 and comes with a 3-year/120 hour limited residential warranty.
Raven MPV 7100
The Raven MPV 7100 is not just a simple riding mower but a multipurpose hybrid. It uses gas/electric hybrid technology that allows it to function as a mower, a hauling vehicle, and a generator. The MPV 7100 comes equipped with a 420cc engine and a 7,100-watt generator. A 46" fabricated deck powered by the generator will cut through the tough and thick grass in no time. It has ten cutting height options that allow homeowners to mow their lawn precisely as they want. The mower even has reverse mowing capability. A turning radius of 14" allows it to navigate tight turns and bends. The MPV 7100 has a hauling capacity of 550 lbs.
Troy-Bilt TB30 E Lithium-Ion Riding Mower
Are you looking for a riding mower that is eco-friendly? Then the TB30 E Lithium-Ion Riding Mower is for you. It has a Troy-Bilt electric driver motor that is powered by a 56-volt 30Ah Li-ion battery. The battery can be charged in four hours and can power the mower for one hour. Its 30" steel mowing deck has side discharge capability. The users can choose from five deck height positions. It comes with a LED headlight, foot-controlled transmission, and high-back seat. The TB30 E Riding mower has a 3-year limited warranty coverage.